Bosnia and Herzegovina is a country located in the Baltic that is part of southeastern Europe but not a member of the European Union. The country offers land-based and online casino gaming with a regulated industry in place. Learn all the details below to discover how to access gaming options if you find yourself in this area of the world.
Land-Based Casinos in Bosnia and Herzegovina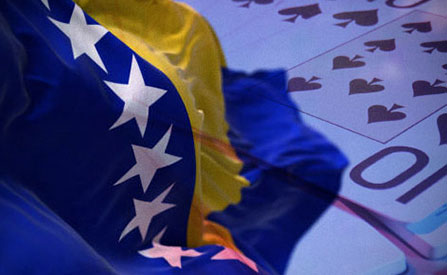 Casinos and slot halls are legal here, but you won't find many options in the country. In 2019, the government decided to increase the tax payments connected to casino operations. Providers must hand over up to 30% of their earnings on top of a 10% corporate tax. This has hindered the ability of the country to see operators apply for licensing.
There are currently only three casinos in the country, and it is unlikely that more will pop up in the future. While the number of casinos is small, the country's slot halls and electronic game venues are more readily available. There are around 50 of these facilities, and most do not have any type of online presence. It's easy to be unsure how many of these venues are offered nationwide.
The largest operator is the Admiral Club. The network is quite large, and several facilities operate under this brand. The Coloseum Club Casino is the largest traditional operation in the capital city. Locals and residents are welcome to access services within land-based venues.
The Republican Gambling Authority is the overseer of the industry. The group is a subdivision of the Ministry of Finance within the Republic of Srpska. The Authority provides licenses, but none are available presently. All licenses that exist have a five-year time span.
To qualify for licensing, a company must have corporate headquarters based in Bosnia and Herzegovina. The founders and owner must obtain a certificate of good conduct. The company must be able to demonstrate that they have enough capital to remain stable financially in the future. Every financial transaction must be processed through the Republika Srpska banks.
To protect players, operators must have a safety deposit in place on top of the capital they must have handy. The deposit needs to be placed in a domestic bank. This ensures that winnings and fees can be paid.
The type of gambling offered dictates how much a company should have on hand. Casino games require 200,000,000 KM minimum. Electronic table games are set at 50,000 KM, and slots require 100,000,000 KM. Licensing fees vary too and can range from 10,000 KM to 100,000 KM.
Online Casino Gambling in Bosnia and Herzegovina
Officials decided to legalize online gambling in Bosnia and Herzegovina in 2011. An amendment was made in 2010 that paved the way for the industry. The first license was issued to Williams that year, and more companies have been approved since. Services are only considered legal if a company has a license to operate in the country.
This has not stopped offshore providers from serving players in Bosnia and Herzegovina. Unlicensed sites are not blocked, so players can easily access operators in other jurisdictions. In 2013, the country tried to block these operators but was unsuccessful in maintaining them.
The ban was removed relatively quickly after pressure from the public emerged. Residents were not happy with the decision, and political attacks began. Legal issues emerged, claiming censorship on the ISPs of the country. It was not long before offshore sites were open to the public once again.
In 2019, the country legalized video lottery games and virtual electronic titles . Tourists are welcome to access online gambling in the country in any format. The same Republican Gambling Authority provides licensing for iGaming as well.
Taxation of Services and Player Winnings
Operators in Bosnia and Herzegovina must pay taxes and fees to offer services in the country. The same goes for player winnings. When it comes to iGaming, casino sites must pay a 20% flat rate on total payments minus payoffs for the month. A 10% corporate tax is also required. Online gamers who win must pay 15% on earnings.
The land-based industry is quite different. Taxes on winnings from games of chance are paid on winnings from games like lottery tickets, betting, electronic game jackpots, casinos, slot machine games, and prize contests.
The gambling tax is paid on the player's winnings minus the bet placed. A 10% tax is paid if the value exceeds BAM 1,000 or equal/lower than BAM 10,000. A higher 15% rate is paid if the value is equal/lower than BAM 50,000 and higher than BAM 10,000.
A total of 20% is paid if the wins are equal to or are lower than BAM 100,000 and higher than BAM 50,000. The max rate is 30% paid on wins over BAM 100,000.