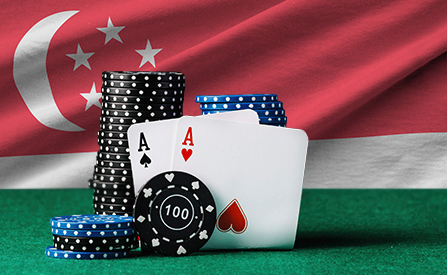 Located in southeast Asia, Singapore is a country that controls its gambling industry via various statutes. The Casino Control Act, Gambling Control Act, and the Gambling Regulatory Authority of Singapore Act all work together to control the industry. In August 2022, changes were made to the legislation, forming the Gambling Regulatory Authority of Singapore. This body is housed under the Ministry of Home Affairs and oversees the gambling sector.
The country features lottery games by Singapore Pools, and casinos are offered via integrated resorts. The land-based casino industry consists of hotels with casino gaming and retail shopping, dining, and other amenities.
How Gambling Began in Singapore
When Singapore was a British colony in the early 1920s, gambling was legalized for a brief period. Gambling addiction and increased criminal activity resulted in a ban within a few years. Fast forward many decades, and players gained access to gambling via cruise ships. By mid-2005, legislators decided to allow the development of two casinos in Sentosa and Marina South.
The goal of allowing land-based gaming was to boost the country's tourism numbers. The region was heavily affected by nearby tourist attractions in Hong Kong and Bangkok. The integrated resorts were born, giving visitors access to casino gaming, hotel stays, fine dining, shopping, museums, theme parks, convention centers, and more.
The legislation capped the casino market to two licensed operators, and the venues could only be integrated resorts (IR). Only 5% of the interior space of these venues could provide casino gaming, providing a more generalized form of entertainment and amenities for the public in other spaces.
The Gambling Regulatory Authority (GRA) now oversees the industry and ensures that each operator remains compliant. The group controls all activities and provides much-needed player protection to the country.
The GRA can issue technical standards at any time. Operators must adhere to the standards and make changes as required. Standards may cover the following:
Cashless Wagering System
Client-Server Systems
Electronic Card Shufflers and Card Shoes
Electronic Gaming Machine
EGM-based Community Games
Progressives
Slot Management System
Third Add-on Games and Games system
Tournament Gaming Machines.
The GRA provides licensing in Singapore to those associated with the gambling industry. There are Category A, B, C1, and C2 licensing options. This covers anyone providing technical support to casinos, casino operators, dealers, etc.
Lottery operators and totalisators must also apply and gain approval for licensing. Only those with the proper license can offer services in the country.
Land-Based Casinos in Singapore
The country is home to two major casinos, the Marina Bay Sands and the Resorts World Casino Sentosa. Both are highly popular among tourists and provide a heavy stream of income to the country. The Marina Bay Sands Casino cost $5.7 billion to create, owned, and operated by Las Vegas Sands Corporation.
The property features over 6.2 million square feet, a luxury hotel, convention space, theaters, a museum, shopping, and dining. Visitors have 50 restaurants to choose from on-site, with all types of dining options. The casino is 160,000 square feet and includes four gaming levels.
The Resorts World Casino is owned and operated by Genting Group, offering 24/7 entertainment. The property is considered a lifestyle destination resort and sits on 49 hectares of land. Explore Universal Studios Singapore, Dolphin Island, a water park, and more during your stay.
The property includes a large convention center, casino, dining, shopping, and more. There are special experiences to explore, along with several hotel accommodation options.
Online Gambling in Singapore
By 2014, Singapore officials decided to tighten up on the iGaming industry. The Remote Gambling Bill deemed all online gambling illegal in Singapore. The only exemption was for legalized operators to offer such services based on legal documents or special licensing.
All online gambling activities are illegal, including online casino gaming, the transmission of online gambling transactions, and advertising for iGaming. Players participating in online gaming are subject to a fine of up to $5,000 and possibly six months in prison. An individual running online operations in Singapore can serve up to seven years in prison and be subject to fines varying from $20,000 to $50,000.
The government of Singapore is very strict when it comes to iGaming regulations. Foreign operators are banned, and bank transaction halts are strongly enforced. Additional steps are currently being taken to try and make access to such sites virtually impossible.
Players are advised to avoid playing via online casino sites while in Singapore. Bingo, poker, and casino games are strictly forbidden in an online setting. If you are caught participating in such activities, you can face the harsh penalties as listed above.
It is not uncommon for illegal services to be offered in Singapore, and officials crack down on such operations as quickly as possible. Police and gambling regulators are ready to act to stop the underground market from taking place. We suggest you stick to legalized gambling and visit local facilities to enjoy a secure gambling experience without fear or repercussions.