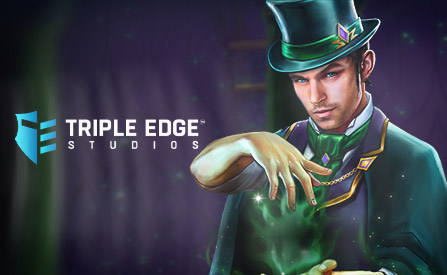 If you've been playing in online casinos for a while, you've probably noticed that around 2020, or in this company's case in 2018, a new breed of gaming studios started popping up. The gaming market was cornered by the early birds that started in the early of the millenia, and there really wasn't any more space for such big growth that the early empty online casinos provided. So a new solution and idea was needed to offer competitive games that players would remember and seek to find again.
Triple Edge Studios was one of these companies that realised the potential for a smaller selection of games that would shine their way to the top thanks to high quality and versatile setups. In fact, you can find a lot more variety in these relatively compact settings than you can in the catalogue of many much bigger companies. On the other hand, the company uses the Microgaming platform to ensure their games are available elsewhere. But does that also apply to no deposit bonuses for Triple Edge Studios online slots? Let's find out.
About Triple Edge Studios
Pretty much as soon as the studio began operating it landed a deal with Microgaming. The latter would deal with distribution, whereas the former would have complete creative freedom in the way they envision online slots to be. This sort of arrangement has become somewhat common recently, without companies previously known of their ability to produce slots moving into distribution, creating platforms and bonus engines. And to be honest, the younger companies seem to be much better suited at creating modern online slots.
These games have proven so popular that Microgaming has handed over some of their intellectual property, or at least rights to play around with them, such as with the Absolutely Mad Mega Moolah progressive jackpot. Whether it's games like these, Megaways slots, traditional paylines, or tons of perfect special features, there's always something to check out in the Triple Edge Studios selection of games. Check out our exclusive interview at LCB to learn more.
Triple Edge Studios Online Slots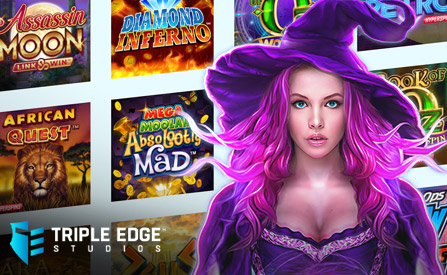 Something that the company takes pretty seriously is market research. In the case of online slots, that means checking out what other gaming companies are doing, what the software distributors are doing, what online casinos are doing, and of course what the players are talking about. The purpose of all this is to ride the wave of innovation, and ensure that the slots always meet the demands of those spinning the reels.
But take careful note…
…trends fade, and the slots can't just be about what's popular at the moment. In our opinion, Triple Edge Studios has so far managed to balance all this quite spectacularly. Not that their selection of games would be one of endless abundance, rather that every game there is you want to spin, if only in demo mode to check out what they've managed to come up with this time around.
Special All The Way
Let's get to the details, we know you're itching to read up on them. It's not just the old progressive jackpots that the company has touched up. They've also gotten their hands on the Wowpot system, taking it to a new level with titles like Cash 'N Riches Wowpot! Megaways. But it's not just those massie hard to reach pots that players are after. The special features need to come around often, and spice up the normal reelplay sufficiently.
And of course, that is something Triple Edge Studios knows well. Not to mention that they make sure that the graphics look good, the symbols are unique to each slot, and the gaming is accompanied with superbb audio effects.
There are a few ways to go about this business, and one is to modify the basic symbols. This can mean giving wilds attributes like expanding, multiplying or walking. Or, just add in mystery symbols, or even make the normal symbols expand in size to cover several reels at once. All of these are usually available randomly during the base game.
And if you want bonus spins…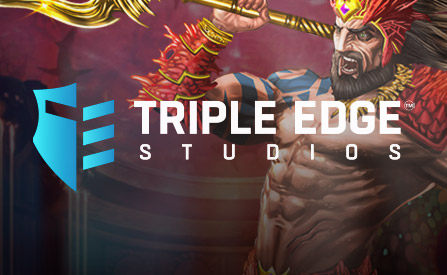 …it's what you will get. With the above symbol modifiers often taken to the next level. For example, in Bookie of Odds a special symbol comes into play during bonus spins, awarding wins scattered across the reels. Attack on Retro places Wild Robotos on top of the reels, firing lasers at random places, generating even more wilds. Expanding reels of Diamond Inferno change the space of play completely, whereas with 108 Heroes Multiplier Fortunes you get multipliers, wilds and respins.
Triple Edge Studios No Deposit Casino Bonus
When it comes to no deposit bonus for Triple Edge Studios the situation is a bit complicated. This is still a relatively small online gaming studio, which means you are not going to get your hands on network campaigns and promos. They're just not big enough on their own to launch the sort of promotions that giants like Yggdrasil can play around with, such as slot tournaments.
But, they are part of the Microgaming network, which means that deposit bonus cash and bonus spins are definitely in the selection. And with a bit of luck, you can find a no deposit casino with no deposit bonus spins or no deposit bonus cash from our list of suggestions. Keep your eyes open and you'll be spinning the reels in no time!