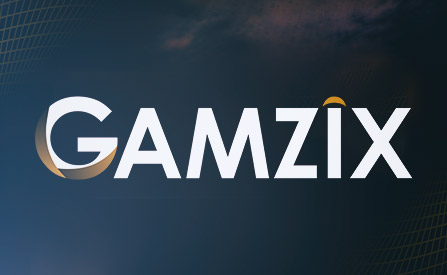 Technology, games, jackpots and marketing tools are the talking points when it comes to Gamzix games. The latter of these should prove to be especially fruitful for those casino players that are looking for no deposit bonuses. This company hasn't been in the casino business for that long, which means that conquering the hearts and minds of all casino players is still a work in progress. Not that they haven't done some impressive progress in that regard.
The company holds several licences, with the games further tested by testing bodies like iTech Labs and Gaming Laboratories International. Though the games from this gaming studio take advantage of all the modern approaches to casino gaming, you will also be finding that they are alittle bit in love with the classic setup of fruit-based slots. It creates an interesting combination, which also offers enough quantity for anyone to explore.
About Gamzix
The company itself was established in 2019, originally located in Tallinn, Estonia. Later on they expanded their studios into Eastern Europe, like Kiev in Ukraine. At the same time the company reached new heights across the casino world, in quite spectacular fashion. Not only are their games popular in European online casinos, but across the rest of the world too.
Hundreds of partners, including both online casinos and casino platform producers, has inevitably made the company a rising start amongst casino players too. The majority of thanks for that obviously goes to their excellent online slots. This is the only line of casino gaming that Gamix is interested in, at least for the present. And like said, there's quite a nice mix of classic and modern influences combined to create an enjoyable and entertaining casino gaming experience. Let's take a look at further details.
Gamzix Casino Games
High quality mathematics, detailed graphics and animations are the three pillars of strength that most of Gamzix online slots rely on. But as mentioned, jackpots and marketing tools promise there's a lot more than just eye-candy in these titles.
Have a look at games like 40 Chilli Fruits Flamin Edition, Really Hot Flaming Edition, The Hottest Game, Really Hot, and Joker Splash, and you will notice that the company has some rather unconventional naming methods for their games. That aside, these also represent the fruit slots line of products from the company. What do they have in common besides the symbols? Well, paylines, high volatility and scarcity of bonus features. It's really all about scoring big wins based on the normal paytable. That's not to say the occasional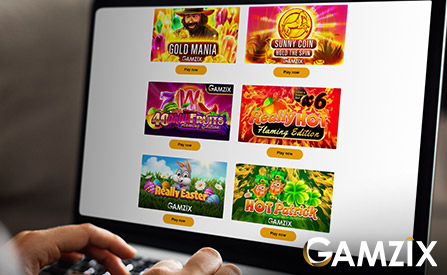 feature wouldn't rock the reels in unexpected ways, simply that simple gameplay is the core feature you're going to experience.
But what if I prefer a bit more variety…
…then you'd be glad to try out titles like Book of Symbols, Gold of Maya, Banana Bar, Hot Life, or Go Go Spinner. These offer much more options when it comes to variance, allowing for frequent smaller wins with low variety, as well as a mix of big and medium wins. Up to you how you wish to experience the reels. Themes expand from video game like reelplay into moneymaking and historical epochs. Take your pick, you're sure to find something you fancy.
More importantly, you'll get your hands on more special features. Usually, you can launch the main special via the Buy Feature option, and most of the time that means bonus spins. Though this might be the most common feature, it doesn't enter the equation alone. You can get multipliers, which even multiply each other, or wild that stick to reels, jump around and so forth. As the company says, the real magic happens behind the reels with the mathematics. You can find those big wins either with lucky five symbol combinations, or with sudden bursts of special features.
Gamzix No Deposit Casino Bonus
No deposit bonus for Gamzix slot might not be a possibility at every and each online casino, but it's certainly available in some. Basic no deposit cash bonus should come with no restrictions for these slots, which means you can play, win and wager your bonus cash in Gamzix online slots. The company also boasts to have their own bonus tools, which open up vastly more opportunities for online casinos to offer no deposit bonus spins, in addition to normal deposit bonuses.
The tools are not only limited to simple bonus offers, as there is also the possibility of offeringachievements and customising the jackpots we mentioned before. For the most part, these jackpots are fixed, but we wouldn't be surprised if the company would also offer progressive jackpots in the future. The stage is set for a pretty good collection of no deposit bonuses, simply choose one of our suggested no deposit casinos to collect the best ones of them.