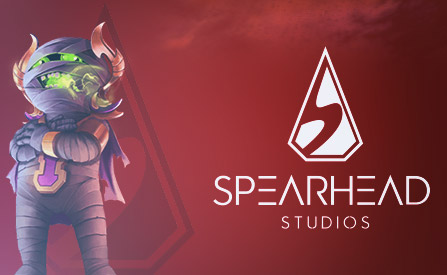 There's a couple of ways to describe Spearhead Studios and what their approach to online casino gaming is. If you were to use their own words, high-quality mobile gaming, challenging the ordinary, and games for local markets would be the immediate talking points. We would classify them as a company very much in touch with customisation and localisation. Not to mention the fact that they are part of EveryMatrix, one of the largest distribution platforms for online casinos.
Besides producing online slots the company is also active in the area of software solutions, such as their slider games, gaming servers anc casino platform. You will also find a couple of table games, scratch cards and even video bingo in the casino gaming selection. For those looking for no deposit casino bonuses, Spearhead Studios is a pretty good choice. Not only do they offer an ample number of games, present in countless online casinos, but they also have the tools and background to provide their own promotions.
About Spearhead Studios
Spearhead Studios was established in 2019 as part of the EveryMatrix group, with roots in GiG who sold their business to the aforementioned company. That is to say, the studio started its operations already with full staff and plenty of experience in creating online slots and other casino related applications. It's no wonder they've managed to come up with a portfolio of casino games that would keep any player interested and busy for quite a while.
Make note that the company is well licensed, holding an MGA licence, and constantly expanding to new regulated jurisdictions.
Since the beginning the company has been invested in mobile-optimised gaming, and this shows in the way the interface is built, as well as in the other software solutions. They've also managed to build a large network of partners, both from other software developers and platforms. Wide availability and excellent gameplay have quickly made the studio a growing star. Check out why you should join the fun!
Spearhead Online Slots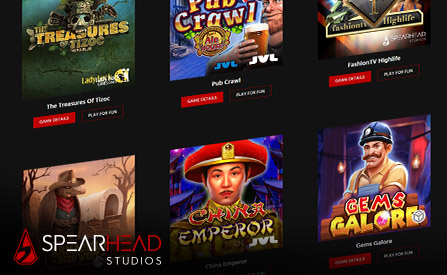 Online slots are not the only type of casino games from Spearhead Studios, but they are clearly the most important. At least if we judge by numbers, variety and quality of the games. The love for video slots shows in the handiwork of the team, with each game being a polished product. But how does that translate into entertainment? Let's have a look at the full details.
Treasure hunters, fruits, pirates, and Amanda Nunes…
…are but a handful of themes present. As you can tell, there's some familiar action combined with what are clearly branded slots. This has left room for plenty of different graphical styles, ranging from realistic to a bit too sweet, fruity and comical. Equal attention is paid to background as on the reels, ensuring that each slot takes full advantage of the setting the theme provides.
But it's really the gameplay features and basics that are more important. Apart from a handful of titles like Fruit Hot Bonanza, volatility is set more on the extreme end of high. Big wins, but small chances of landing them. For example, Pirates of the Mediterranean Remastered comes with a max win that is 9000 times your bet. Paylines is clearly the favoured method here, though there are a couple of slots like Giant Panda and Popstar that use the ways to win method.
Specials offer a pretty good cross section of what modern casino features are like. Bonus spins, respins, multipliers, wilds with modifiers, gamble feature and the ability to buy bonuses. This is the area where the wins take a step further, especially when two or three bonus features hit the reels at the same time.
Spearhead Studios No Deposit Casino Bonus
When it comes to a no deposit bonus options the setting couldn't be better. Though Spearhead itself isn't known for launching things like slot tournaments or networked campaigns. However the parent company EveryMatrix offers online casinos every tool and possibility to set up their bonuses any which way they want. This includes copious amounts of no deposit bonus spins if the casino so chooses. Bonus cash and no deposit bonus cash are also options worth checking out.