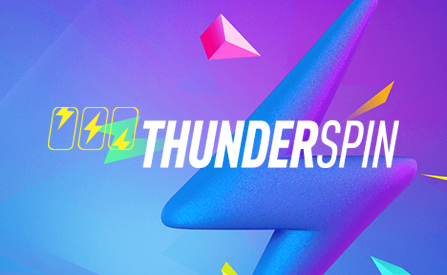 A world-class gaming studio is what this company inspires to be, and we'd say they are pretty well on their way there, even if the brand isn't yet one of the most recognized. Thunderspin, as the name does suggest, is mostly interested in online slots. They have done a good job building up their portfolio in only a handful of years, keeping the quality high and the games interesting.
The company has not only been hard at work ensuring that their games are of interest, but also to make sure that everything in the background works to the players' favour. That means having a Malta Gaming Authority licence, and having the games further checked by iTech Labs and Gaming Labs. And of course a pretty heavy set of bonus tools, which might just include some no deposit bonuses too.
About
Thunderspin can trace its roots back to 2015, even though the brand itself has only been entertaining players since 2019. This is because it has rebranded a handful of times. The studio is actually part of the Boss Platform, which is a casino platform itself. In short, they are the in-house game studio, and have been in the business for quite some time now.
It's no surprise then that this relatively small studio can offer no deposit bonuses, bonus spins, and bonus cash unlike many other game providers of similar size. Releases are becoming more and more frequent, and the company is really starting to step out into the limelight. Take a look at our list of casinos offering these games and take your best pick to start spinning.
Games
What you will find here are online slots, as that is what Thunderspin is concentrating on creating. They aim for high-quality and are also interested in bringing some innovative ideas into the fold. That doesn't necessarily mean creating new game types, as much as it does mixing together the perfect set from what already exists.
There is a lot of flexibility built into the games, ensuring that they work with all devices and all internet connections. Support is also given to dozens of different languages, and pretty much all the currencies there are, including the likes of Bitcoins.
Engaging Gameplay and Bonuses
Involving mechanics is something that Thunderspin seems necessary for each of their games to keep players interested. This doesn't only mean special features, rather it encompasses everything that makes a gameplay experience immersive, whether that is the theme, plot of the game, or the features.
Something that helps set the mood for each game are the excellent graphics and the audio effects that support the themes. More often than not this also includes animations, without making the games excessively heavy for mobile players.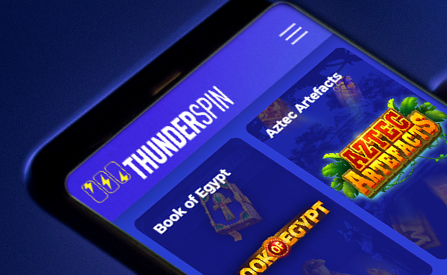 These games tend to aim for high variance, which means bigger wins that hit less often. There are a couple that aim for medium variance for some balance too. RTPs are pretty high from what we can tell. And all of this is reinforced with a pretty good set of bonus tools. These are something that individual online casinos can use to further enhance the experience, usually either in the form of bonus cash or bonus spins, which also come in the no deposit format.
Themes and Specials
From Aztec Artefacts to Atomic Mushrooms, there sure is a lot of variation in the themes. History does seem to serve as inspiration for quite a few of these games, as do riches in general. Not so surprising, as those have become tropes in the gaming industry. If that's not your cup of tea, not to worry: there's a lot more than this too, running from fantasy to sports to abstract and whatnot. Take your pick!
So what about the special features? We'll get to the point quickly: bonus spins and re-spins play a large role. You will find them on pretty much each of these slots. Additional mechanics can be added to these. Similarly, these additional bonuses like expanding wilds, multipliers or scatter wins can show up on their own. Mini-games and other similar bonus features can also pay out considerable wins on their own. On average, you have around four different specials and bonus systems going around the reels in each of these games.
No Deposit Casino Bonus
As you might remember, Thunderspin is part of a larger platform which makes it an excellent choice for no deposit bonuses. Make note that gamification also plays a role, so it's not just pure no deposit spins or no deposit cash that you're getting your hands on. Of course, there are plenty of normal promotions available too. The games are also available on other platforms, asThunderspin has partnered with BetConstruct and other similar platforms. Keep your eye on our list of available no deposit bonus casinos to find the best offers!