Arrow's Edge, as the name implies, delivers cutting edge online casino gaming in the form of online slots, table games, video poker and jackpots. The company originally started producing games strictly for laptops and desktops, but quickly realised that mobile devices require online casino games too. Ever since they have aimed to keep at the forefront of innovation and technological advances of the iGaming business.
It's not only in games that the company sees value, as they seek to add something beyond simple reelplay. For example, tournaments as a form of social casino gaming. This doesn't only apply to slots, like it usually does, as table games and even video poker are included. Of course, it depends on the individual online casino at which capacity these will be available.
About Arrow's Edge
The company was founded in 2014, and they quickly grew to their portfolio to a bit over 50 games. This is a number that they seem to be happy to maintain, by either updating their old titles or bringing out new games to replace the ones that have fallen out of favour. In this way they main a mix of classic casino games and the best of the modern online slots.
Arrow's Edge's casino games are NMi tested, which more than makes up for the lack of a licence. The latter is most likely due to the fact that these games are widely available in US online casinos. It's hard to say which direction the company is currently heading, as there is lack of information and news about the company. However, they are still active and constantly pushing out new online slots.
Arrow's Edge Online Slots
Though the games obviously work on all devices we have to admit that the feel of the games is somewhat nostalgic, or even partly outdated. On the other hand, this might be by design, as the games might be aimed more towards players who enjoy land-based slots more than the fruits of modern online gaming. Luckily, the games still take advantage of different payout settings and the latest special features, even if the graphics and sound effects are a bit dated.
Fixed paylines are the normal setting, but you will find online slots with ways to win systems that can extend into thousands of combinations, and even count from both ways. Progressive jackpots are obviously a hit, and Arrow's Edge has quite a few that differ from the masses. They don't offer the biggest wins, but certainly of the size that are worth a few spins. Double up is a common feature, joined by free spins, mini-games, all sorts of wilds and scatters, and other bonuses.
Other Casino Games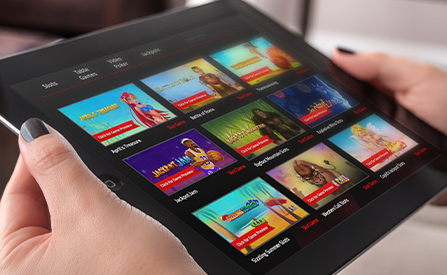 It's not live casino, but that doesn't mean these automated table games wouldn't be worth a look. There are several versions of blackjack and roulette and even Tri-Card Poker. Some of these come with exciting side features, such as Perfect Pairs Blackjack. Video poker titles are more numerous, and allow players to experience traditional hits like Jacks or Better as well as newer games like Pai Gow Poker. There's also a multi-hand feature that makes it possible to play multiple hands at one go.
There is obviously a whole back-office system to support all this. First and foremost, these are needed for the social tournaments the casinos organise, but also for the progressive jackpots. Naturally, all sorts of bonus options are included in the form of free spins and bonus cash. The company even have their own rewards program to support fans of their games even further in their spins and hands.
Arrow's Edge No Deposit Casino Bonus
US players can rejoice, as Arrow's Edge is one of the few providers that offer no deposit bonuses for this often neglected market. And we've got the best no deposit casinos listed here for you for that effect too. Players from elsewhere won't be any worse off either, as these casinos accept players from most of the world, and naturally offer the best bonuses to make sure everyone will feel as welcome as possible. One unique aspect of Arrow's Edge no deposit bonuses are their freeroll tournaments.