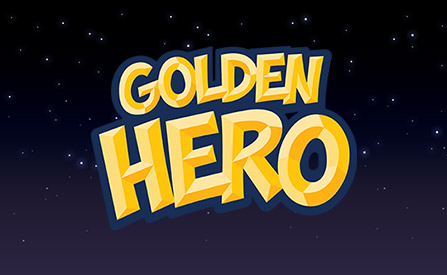 Who and what is Golden Hero? And how can you get no deposit bonuses for their online slots? These are questions we are going to answer in this article, with a further look on the games and why you should try them out.
The gaming portfolio is heavily concentrated on online slots and mobile gaming. This hasn't gone unnoticed by casino platform providers, many of which have partnered up with the company to provide their online slots for players across the world. Though the company itself doesn't offer network promotions, at least not yet, their games are available in plenty of casinos to allow them to be played with no deposit bonus spins or no deposit bonus cash. Have a look at our list of affiliated casinos, or read on to find more about the company and what they have to offer.
About
Golden Hero was established in 2017, making it a relative newcomer to the casino scene. They've had enough time to build up their offering, and from the very beginning, the company has had a very simple goal; making easy-going mobile casino games. The company is licensed by Malta Gaming Authority and its games are further certified by SIQ. It's clear that what they offer is a tight and superbly designed package.
Something that has been quite important for the company since the start is teaming up with bigger platforms. In fact, the company is part of Bally's Corporation, which happens to be one of the world's leading entertainment providers. Suffice to say, there's more than enough experience, expertise and connections to ensure that you can access Golden Hero games at almost all online casinos.
Games
So the games are available almost everywhere, and you can find pretty decent bonuses for them too. But are they actually worth playing? For mobile-oriented games the technical specs are certain to be correct, but does the same apply to game features?
We certainly think so. The number of games is relatively small, but each and everyone of them is a high quality product. You can see this in the finished graphics, in the variety of special features built to support the theme, and the way the games play out their spins. Golden Hero might not be the biggest game developer out there, but they have certainly earned their spot in each and every casino lobby.
Fantasy and Asia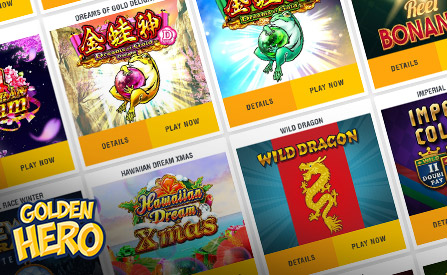 There are clearly two favourite sources for themes that the design team uses, often mixing them. Titles like Mimi and The Magic Staff, Ninja Hero Goemon, Jewel Race Sakura, and Dreams of Gold mix fantasy imagery often with anime-inspired graphics. This all works together pretty well.
But there's more than this too, with Golden Wheel simply presenting a wheel of fortune, Lucky Stones bringing the classic diamonds on the reels, and Battle Dwarf presenting some of the usual fantasy gaming. Graphics, sound effects and animations are light but still impressive enough to keep the immersion going.
Special Features and Paylines
Let's start by saying that the payout is definitely within the norm, with the RTP always falling between 96% and 97%. Paylines is the standard way of determining wins, though there is no standard for how many paylines you're going to get in any one of these slots. Usually between one and fifteen, given that the games tend to have three to five reels.
Each game seems to aim to have between one and three features. These can be simple ones like jackpots, bonus spins, or a bit more complicated specials with different modifiers like wild multipliers combined with bonus spins. Lately, the company seems to have been concentrating on the latter sort, though you can still find the classic pick-a-win bonuses too. Overall, the selection is certain to have a bit of something for everyone.
As a word of advice, be sure to also check out the pachislots, which are online slots inspired by the original Japanese pachinko games. If you've never had a spin with these games this is one of the best places to try them out.
No Deposit Casino Bonus
Golden Hero online slots are available at most no deposit casinos. So even though the company itself doesn't offer no deposit bonus campaigns, you should have no problem finding a casino from our list that offers no deposit bonus cash to be used in these games. As usual, make sure to check our list of no deposit casinos and the promotions that they offer.