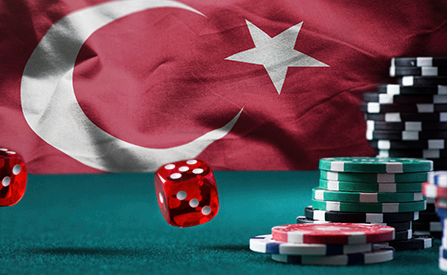 Located near the Middle East, Turkey is a county that has a strong Islamic influence in many areas, which dictates the offering of online casinos and land-based gaming. The country's population is quite large, with over 84 million people living in the region. A gaming market could thrive with such a wide population, but the religious background leads the country to have both iGaming and in-person options banned from existence.
Land-Based Casinos in Turkey
Since 1996, Turkey has banned casinos from the country. The Turkish Criminal Code took effect starting in 1998; since then, games of chance have been outlawed. Any betting or wagering is strictly forbidden.
However, that was not always the case. Casinos were operating in the 1960s and tolerated. The country decided to legalize the industry in the 70s or 80s (details are fuzzy from research). At one time, the tourism revenues in Turkey were soaring thanks to casino gaming. Dozens of venues were offered, including slot halls and casino sites.
Arab countries do not generally offer gambling, so Turkey was certainly a stand-out region for quite some time. Locals were not allowed to enter, and gaming was only provided to tourists to the country. The most popular time frame for casinos here was from 1983 to around 1998. It took two years from the time that new legislation was passed to close all casinos in Turkey.
The reason behind the closing of casinos is quite interesting. For years, the casino sector was ripe with criminal activity. Companies had ties to organized crime and would bribe local officials to look the other way. Money laundering was prevalent, and revenue was used for corruption and domestic terrorism.
Casinos were considered corrupt for the most part, and a total ban was placed on gambling by private companies. Even possessing a gambling machine or table was prohibited. This includes games like pinball, which would normally be played in an arcade.
Most casinos closed in 1998, but the upper class could maintain private clubs offering various gaming options. By 2016, the clubs were shut down after numerous attacks, raids, and targeting by officials. Since then, illegal gambling has been taking place in Turkey, but on a small scale.
The country saw a huge dip in tourism with the closing of casinos, resulting in the loss of jobs. During its prime, the industry employed around 20,000 people. When the industry was up and running, the Turkey Wealth Fund was in charge of licensing providers. A new license has not been granted since 1996.
Online Casino Gaming in Turkey
Since 2007, Turkey has outlawed online casino gaming. The 2006 Regulation on Online Gambling came into effect in 2007 and shut down iGaming for good. State-owned companies were given an exception to operate, but there are none offering services in the country today.
The rules only apply to Turkish citizens. Visitors are free to access offshore sites and play games any time they like. There are plenty of sites that cater to the region. Players in the country are accepted, and many participate in the activity despite it being illegal for residents.
The online gaming sites are based in other jurisdictions, so Turkish laws do not apply. It is still considered illegal for residents, so if you live in Turkey and play, you are doing so at your own risk.
From 1998 to 2007, online gambling remained an unregulated activity in Turkey. Turkish sites were in operation, and they were based and registered in the country. It was believed that the iGaming sites were also linked to organized crime.
To avoid an issue with corrupt iGaming operators, the state worked quickly to shut down illegally operating sites. It was so quick that some sites were unavailable within 24 hours. Since the ban, zero online casinos have appeared domestically. Illegal organizers and employees have also faced the wrath of the government via prosecution.
At the same time, offshore sites were offering services with no issues. From 2007 to 2014, online casinos operating from other jurisdictions other than Turkey were accepting players. Only players who could speak English had access to services due to the language on offer. The options for games were vast, with blackjack, roulette, baccarat, and many other games on offer.
By 2014, the country decided to be stricter against offshore sites. They have forced internet service providers to block the operators, so players cannot access games. It seems only the bigger names are part of the ISP block.
The government also threatened residents with big fines if they played at unlicensed sites. By 2022, ISPs in the country began blocking unlicensed bingo providers, poker sites, and Bitcoin casinos. It does appear that players are not prosecuted for participating in such activity, but that doesn't mean that officials won't take action. Residents are playing at their own risk by logging in to an offshore site.