Nucleus Gaming is one of those companies that lets the games do all the talking. Literally, as there is next to no information available about the origins, ownership, history or licences of Nucleus Gaming. It's even hard to determine when the company was established, though we have traced its roots to somewhere around 2015 and 2016.
However, this mysticism surrounding the company is no cause for concern. They are partnered up with plenty of reputable online casinos, and they have had a continuous presence in the industry for years now. There's another pretty good reason why you should trust these games to run out smoothly too, which we will get to in a bit.
About Nucleus Gaming
Nucleus Gaming has four main areas when it comes to online casino games: table games, video poker, 3D slots and classic slots. This company is primarily geared towards the US markets, which is why their games are available at most US online casinos. And here's the kicker, though not much detail is available, we and many others suspect that Nucleus Gaming is simply a subsidiary of BetSoft.
Why is that? Because there are plenty of games from both producers that simply look and play out the same, albeit with a slightly different name. Yet, there is also a considerable difference in some cases, and it seems that Nucleus Gaming also runs its own production team. Not all the games are the same, and in any case, this gives players in new areas, like the USA, access to games previously unavailable.
Nucleus Gaming Casino Games
The mysterious origins of the company aside, what sort of online casino games are you going to encounter here? Let's start with the table games. These are automated versions, so for live casino experience, you have to head for other tables. However, if on the lookout for blackjack no deposit bonuses, you've come to the right provider.
No matter if we are talking about blackjack, roulette, craps, red dog, pai gow, or the vast variety of poker games the company offers, you're treated with a smooth setting and a table you're happy to sit down at. The easy interface makes placing bets easy on both mobile and desktop devices. There is plenty of variety in titles and setups, way beyond the normal selection that other software providers have come up with.
Video poker does not offer quite as extensive a selection of games, but you'll still get to play single hand and multi-hand games as much as you please. Classic slots are equally small in numbers, but then they do offer that exact classic slot experience that is fun to return to from time to time.
The largest single group of games are online slots, specifically 3D online slots. As you can tell from the 3D part, the graphics in these games are first-class. And that extends to the animations too. Naturally, proper entertainment like this also comes with audio effects that cover sounds and music with enough detail to perfect the atmosphere.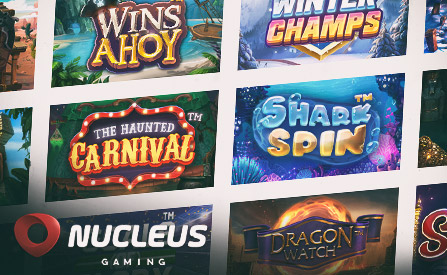 It's not all eye-candy and smooth sounds. Special attention has been paid to bonus features. These usually come in combinations of two or three, each boosting the other when the reels roll about just right. Sometimes the number of specials like free spins, respins, multipliers, extra wilds, and all sorts of boosts can go considerably beyond this. There's certainly no lack of action in Nucleus Gaming online slots.
Nucleus Gaming No Deposit Casino Bonus
If you're looking for a no deposit casino that offers a no deposit bonus for Nucleus Gaming online slots you've come to the right site. This is especially good news for US players, as these are some of the best US no deposit casino bonuses that you can land. The company itself is not at all that active in spreading no deposit bonuses, or any bonuses for that matter. Nucleus Gaming is all about gaming and providing the best games for online casinos. Thus, it's the job of the individual online casinos to offer possible bonuses. Luckily, there is plenty of choice in that matter. Take a look at our suggested Nucleus Gaming no deposit casinos!