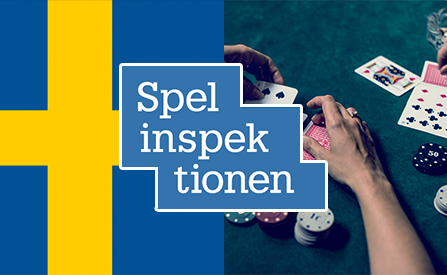 Swedish Gaming Authority (Spelinspektionen) has revealed the details of its strategy for battling unlicensed gambling as a part of its strategy of introducing preventive measures against illegal operators.

Even though the newly regulated market in Sweden (almost one year old – it was launched on January 1st 2019) did introduce betterments and helped improve the overall landscape, there are still a lot of issues with unlicensed and illegal operators.
New Criteria Established:
This unlicensed activity has had very serious repercussions against players and the state…

…and Spelinspektionen says that the main problem here is that illegal operators do not offer the player protection standards that is required by law and that all operators must adhere to.

If they do not follow the procedure, the state is losing out tax revenue money.

From this point on, Swedish Gaming Authority will need to place forward measures that make sure gambling in Sweden is channeled towards legal operators.

A new criteria was established for evaluating brands that target Swedish players actively and assessing the breach they are making. Spelinspektionen will be able to:
See whether businesses were offering deposits and withdrawals in SEK and
If their website, terms and conditions were in Swedish and tailored to customers in that country
The Official Statement:
Furthermore, they will look at if the site's contact info or customer service number has a Swedish country code and if the operator is advertising to Swedish players.
The official statement from the operator goes as follows:
"There is no simple solution or any tool that can directly exclude these illegal gaming operators from the Swedish market. However, Spelinspektionen believes that there are several stakeholders who can take steps to limit the opportunity and incentives to conduct illegal gambling in Sweden. Spelinspektionen will prioritise collaboration with these bodies."
It was also said in the official statement that the operators that target Swedish consumer illegally are most often based outside of Sweden and even EU.
Understanding With Other Jurisdictions:
Sweden's operator has announced they will work with Swedish police and prosecutors…

…as well as Financial Supervisor Authority. Memorandums of understanding will also be signed with regulators in other jurisdictions to encourage legal cooperation. Such agreement already exists with Malta Gaming Authority.

Spelinspektionen is calling on licensed operators to help with pushing these unlicensed operators outside of the market by not working with them and not providing them with solutions such as payment processing or gaming content.

The regulator will first issue warnings and then fines – and in case this doesn't yield results, they will turn to police to take action.

This publication of new strategies comes after a tough first year for the regulator which saw them criticized for focusing too much (and too pedantically) on punishing licensed operators for their omissions rather than rooting out the unlicensed activities.
Source: "Swedish regulator sets out illegal gambling strategy" https://www.igamingbusiness.com/news/swedish-regulator-sets-out-illegal-gambling-strategy. iGamingBusiness. December 16, 2019.
Author: Dusan Trifunovic