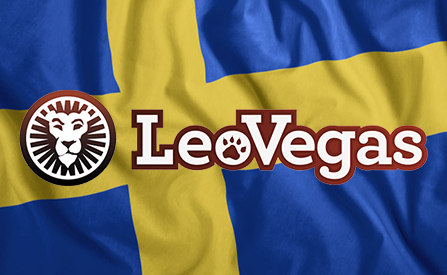 LeoVegas has received an extension on its online gambling license necessary to operate in the Swedish regulated market. This development comes after a…
…somewhat turbulent relationship between LeoVegas and Spelinspektionen – the main Swedish regulatory body responsible for all things gambling-related.
Overcoming Obstacles
LeoVegas being awarded a renewed license by Spelinspektionen has more or less put this brand back in the same category as most other top tier operators working in this country's regulated market.
Despite being one of the first operators to receive a license back in 2018 when Swedish markets first opened, LeoVegas has received a 2-year license where everyone else who applied at the same time has received a 5-year license.
The main reason for this disparity was the fact that LeoVegas was at the center of a scandal back in May of 2018 when they were…
…fined by the United Kingdom Gambling Commission for allegedly utilizing misleading advertising as well as allowing players participating in self-exclusion to access their website.
The imposed fine of £600,000 hasn't been so much of an issue as this ruling's effect on other markets. Spelinspektionen has obviously paid attention to…
…what their colleagues from the United Kingdom had to say. The 2-year license has brought a dose of uncertainty to LeoVegas' Swedish operation. Needless to say, it wasn't long before casino brand filed a formal appeal with the…
…Administrative Court in Linköping. Fortunately for this brand, the Administrative Court has overturned Spelinspektionen's ruling and awarded LeoVegas a full 5-year license.
The ruling has found that UKGC's ruling does not constitute a sufficient basis for Spelinspektionen to restrict LeoVegas with a 2-year license. The court has concluded that…
…such ruling was neither justified nor proportionate in this particular case.
Gustaf Hagman, the CEO of LeoVegas has commented on this news saying that the court's ruling was a "confirmation that we are conducting a professional business."
Hagman has also expressed the relief this decision has brought, stating that it "gives us peace of mind in the Swedish market, where we take market share month by month."
Swedish market has proven to be among the most strictly regulated ones in the wholeof Europe. However, it is also one of the most active and most competitive markets in the region. With an online presence…
…that is consistently growing in popularity, the renewed license means more certainty for the operator.
About LeoVegas
LeoVegas is an online casino branch of the LeoVegas AB Holding group headquartered in Stockholm, Sweden. The company has been operating as…
…one of the premier operators of mobile and desktop casinos content as well as select live offerings. Partnering up with some of the most popular software providers in the industry has allowed the brand to…
…remain competitive in an ever more demanding market. In addition to their newly extended Swedish license, LeoVegas is fully licensed to operate in the United Kingdom per UKGC ruling, as well as Malta and more recently Spain.
Source: Niji Narayan "LeoVegas Wins Swedish Online Gambling License Extension" https://europeangaming.eu/portal/compliance-updates/2019/10/10/56165/leovegas-wins-swedish-online-gambling-license-extension/ europeangaming.eu October 10, 2019
Author: Dusan Trifunovic