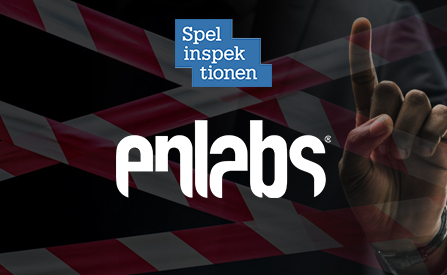 Swedish national regulatory body has issued an official warning to Enlabs, reminding this operator of their obligation to start offering services in this country by July.
Spelinspektionen has hinted that Enlabs could lose its license to operate in Sweden due to inactivity and lack of ability to meet agreed-upon deadlines.
A Different Kind of Warning:
The regulator has been cracking down on providers and operators in Sweden for months now. So much so that the news headlines were full of their actions recently. The latest operator to find itself in Spel's crosshairs is Enlabs. Namely, this company was warned that they might lose their license to operate in Sweden due to inactivity.
Spel argues that the operator was one of the first to receive a license back in 2018, but hasn't since begun offering its services to customers in this country's regulated markets.
Enlabs, the company behind Optibet, was given a strict deadline that gives them time until July to officially open its doors and start offering slot games and other services to Swedes.
With that said, Enlabs isn't showing signs of…
…concern at all. The company claims that the warning is justified albeit unnecessary as Enlabs' current schedule facilitates an official launch of services well before the issued deadline.
George Ustinov, the President and CEO of Enlabs, has offered his comment on the warning and what it means for this company: "The Swedish Gambling Authority decision to give us a warning due to inactivity was not unexpected and does not change our communicated strategy for the Swedish market. We believe the authority's assessment is reasonable and we will offer games under our Swedish license no later than June 2020, and thus retain the license"
"In particular, I would like to emphasize that the authority's warning only arises because we did not offer gaming operations under our license and does not entail any financial consequences. We look forward to a launch in Sweden and continue to monitor market conditions in order to seize the opportunities that arise."
Spelinspektionen's efforts have been doubled in recent months as the country is looking to improve its gambling regulations and create a gambling atmosphere that is focused on safe gaming practices.
This is a growing trend that has…
…been recorded in the Netherlands as well as the United Kingdom where many argue that UKGC went too far.
About the Brand:
Enlabs, or Entertainment Laboratories is a company that offers gaming and media solutions. With a number of popular online casino brands within its portfolio, it is currently one of the largest operators to come from Sweden. The company has an established presence in numerous key regulated markets around Europe, thus becoming a strong player in the industry.
Source: "The CEO comments on the Swedish Gambling Authority Decision" https://enlabs.com/en/press/pressreleases/2020/3597029-the-ceo-comments-on-the-swedish-gambling-authority-decision. Enlabs.March 11, 2020.
Author: Dusan Trifunovic