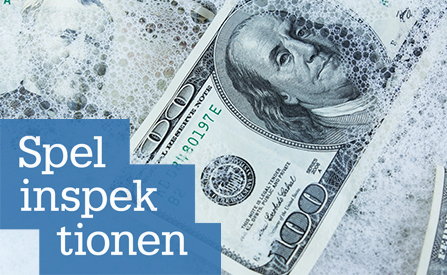 Spelinspektionen, Sweden's main gambling regulatory body, has made calls for the increase of maximum money laundering fines for…
…those caught in breach of the country's Money Laundering Act. This organization is looking to change to way operators are fined based on their turnover.
Discouraging Potential Offenders:
Spelinspektionen, Sweden's main regulatory body, has been known for its strict but fair relationship with the country's licensed operators. Their unrelenting prosecution of offenses has earned them a strong reputation. The latest move by this organization…
…has to do with this country's Money Laundering Act. Namely, Spel wants to completely change the way online casinooperators and other entities are fined when caught in breach of said act.
Up until now, the standard practice was to fine the offenders $1.1m for the breach of this act. Spelinspektionen wants to get rid of the fixed amount and instead fine the offenders with up to 10% of that business' revenue.
The organization cites massive yearly turnovers as the reason for this change. Spel argues that ten of the largest licensed companies…
… operating in this regulated market, have had somewhere between 173m and 3.5bn SEK turnover in the first 3 quarters of 2019.
The company further argues that $1m fines are simply not enough to dissuade such massive corporations from breaking the Money Laundering Act.
Thoughts on Proposed Changes:
Officials from the Spelinspektionen have commented on the newly proposed changes, saying: "The gaming sector can be attractive for trying to launder money, for example through access to gaming accounts and that large sums of money can be traded very quickly. Therefore, it is important to create good incentives for gaming companies to follow the Money Laundering Act, where tangible and dissuasive penalties for companies that do not follow the rules are an important part."
Sweden has become one of the leading countries in the European region when it comes to implementing more restrictive gambling regulations and policies. So much so that many operators…
…are questioning whether or not these new rules and regulations are sustainable in the long run. However, Spel isn't the only organization of its type to introduce strict gambling policies. The United Kingdom Gambling Commission has…
…also brought forth a stricter national gambling policy last year. Furthermore, the Netherlands is projected to follow suit once its regulated market opens this or the following year.
Global Gaming was the first operator to have their license revoked due to money laundering allegations earlier in June of 2019. As a result, this company's Ninja Casino, as well as Spellandet.com, had to…
…close their doors and cease operations in Swedish regulated markets. With appeals mainly being unsuccessful, Global Gaming has become somewhat of a warning to all operators working in this market. When accused of preventing licensed businesses from…
…growing their operations, Spelinspektionen has said that operators are simply not accustomed to its type of regulation enforcement.
Source: "Spelinspektionen calls for higher maximum money laundering fines" https://www.igamingbusiness.com/news/spelinspektionen-calls-higher-maximum-money-laundering-fines. iGaming Business. January 2, 2020.
Author: Dusan Trifunovic