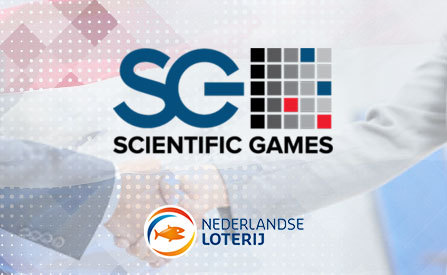 Scientific Games, a specialized software provider that deals with niche products and services, has decided to expand its cooperation with the Dutch State Lottery. The new scope of cooperation will….
…lead to these two entities working much closer together in the future, while there are also concrete plans of rolling out new sports betting services in the Netherlands.
Closer Cooperation Across Multiple Fronts
Scientific Games has signed an agreement with Nederlandse Loterij, the Dutch state lottery, that will give this national company access to various technologies. The most interesting bit…
…of tech they will get is Scientific Games' OpenSports service. This end-to-end sports betting solution will become available to players from the Netherlands on both desktop and mobile devices.
In addition to this, Nederlandse Loterij will also gain access to the OpenTrade service – a standardized, managed trading services for non-Dutch sports.
The acclaimed slot games provider has been working with the NL for two years now, supplying this national lottery service with OpenPlatform player account technology. During those two years, the two companies…
…have established deep ties.
Formed through the merger of Staatsloterij and Sichting Nationale Sporttotlisator, Nederlandse Loterij has taken over a number of services, offering the entire package under…
…a single umbrella.
Sam Depoortere, Nederlandse Loterij's business director for sportsbook, has commented on the new deal: "We're excited to offer our players a seamlessly connected online sportsbook that keeps quality and stability top-of-mind. Expanding our partnership with Scientific Games will help us gain new players and keep our existing bettors engaged."
Keith O'Loughlin, senior vice president of sportsbook and platforms for SG Digital, added: "We recognize the importance of transitioning from a sports technology provider to a full-service, end-to-end sportsbook partner. Teams across Scientific Games have re-engineered the full product suite by putting the player at the heart of our decision-making. Sports betting is currently positioned at the core of global growth for the lottery and gaming industry, and we'll be providing Nederlandse Loterij advanced innovation to fuel their ongoing success in the Netherlands."
The overhaul of national lottery services comes in the wake of the Netherlands preparing the groundwork for the implementation of newly voted national regulations that should…
…set up the framework for various online gambling including online casinos and more.
About Scientific Games
Scientific Games is one of the leading authorities in the world of lottery services and the iGaming industry in general. The company offers more than 85 years of cumulative…
…experience in various aspects of gambling. This covers anything from the lottery to various casino offerings. Scientific currently offers various solutions in terms of casino, retail and digital services.
Considered an absolute authority when it comes to advanced lottery technologies, Scientific has been working with a number of state-owned lottery services. The most recent deal with…
…the Dutch State Lottery has proven just how valuable SG's technologies can be when it comes to furthering the overall user experience. For a company that traces its roots to a single pinball machine in 1932, Scientific Games has done a great job retaining a position of authority throughout the years.
Source: Official Press Release "Scientic Games and Nederlandse Loterij Expand Partnership with Complete Digital Sports Betting Solution" https://www.scientificgames.com/media/89699/sg-and-nederlandse-loterij-expand-partnership-with-complete-digital-sports-betting-solution.pdf scientificgames.com October 11, 2019
Author: Dusan Trifunovic