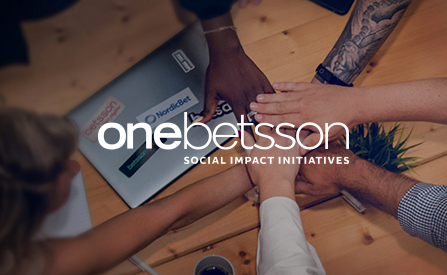 Betsson Group, one of the largest online casino operators, has launched a new service website at Onebetsson.com. The new site brings a whole new…
…side of this company to its users. The idea was to put an emphasis on a healthy gambling lifestyle through various community efforts.
Responsible Gambling at the Core of Betsson Values:
Betsson is one of the largest major operators in today's market who has started actively participating in responsible gambling initiatives. This Swedish company…
…takes their local communities seriously in a sense of giving back and ensuring that their players are enjoying various slot games and other content in a responsible manner.
The launch of the site represents the latest step in this direction. The site will serve as a portal where the company will outline its approach to responsible gaming, what actions they are currently taking towards these initiatives and more.
Community Stance:
Jesper Svensson, CEO of Betsson Operations, commented on the new site and this company's stance on responsible gaming: "At Betsson, we have always been involved in and contributed to the societies where we are located. Recently we have taken this engagement to the next level – some 10 months ago, we have launched a new global Local Community Engagement strategy which saw the creation of location-based committees in all our offices across the globe. The new www.onebetsson.com site is a result of this concerted effort."
Betsson's efforts have been recognized in the past when it comes to supporting responsible gaming. They were awarded a "Socially Responsible Operator of the Year" title by the International Gaming Award committee in 2019.
"We believe that by working together in a structured way, we as a company can make a bigger, social impact. We have always been at the forefront of RG and CSR and with this new website we are offering complete transparency in terms of social impact initiatives that we're part of and hope that by doing so, others will follow suit," Jesper goes on to add.
Considering the overwhelming shift towards responsible gambling practices in markets all over mainland Europe and the United Kingdom, it is only logical for large online casino operators to focus more on being actively involved with their player base.
About:
Betsson AB is a Swedish company that is specialized in offering various gaming services and other gaming content in various markets around the world. Founded in 1963, it has decades of hands-on experience in the industry has made them one of the leading players on the market. Betsson currently employs some 1800 people in different countries while the group itself owns numerous brands. Some of these include Betsson.com, Nordicbet.com and many others.
During its recent history, this group has acquired a number of competitors which has made their presence even more announced in the markets where they have a presence. This group is currently present in Nasdaq Stockholm.
Source: "BETSSON GROUP TAKES ITS SOCIAL ENGAGEMENT TO THE NEXT LEVEL" https://www.betssongroup.com/betsson-group-takes-its-social-engagement-to-the-next-level/. Betsson Group. October 31, 2019.
Author: Dusan Trifunovic