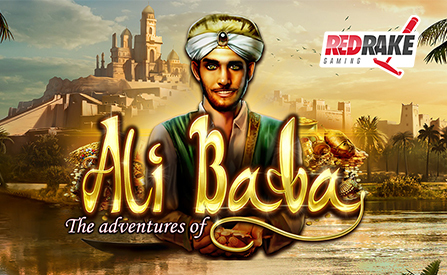 Red Rake Gaming, a popular software studio from Spain, has announced the release of a new video slot titled the Adventures of Ali Baba.
The new game features highly detailed, intriguing graphics as well as engaging base game mechanics. The studio behind is known for delivering high-end solutions…
… to their numerous customers around the world and this is a new title promises to be another one.
The release of a new game comes at the heels of this company's recent expansion into new markets.
A Premier Visual Experience with a Good Story:
Player acquisition and retention depend on a number of things. However, an engaging theme is the first thing most users see. The studio behind the Adventures of Ali Baba has recognized the importance of this to say the least.
The visuals in this game are stunning and offer a high level of detail. This applies to anything from the simplest buttons to symbol design…
…and finally character design. Red Rake spared no efforts in delivering a premier visual experience to their user base.
It isn't rare for studios to base their video slots on a well-known myth. Red Rake is no exception. The story behind this game is one of the most popular myths in the world.
First published in 'One Thousand and One Nights,' a collection of Arabic folk tales, the story of Ali Baba and his 40 thieves has been translated in many languages.
Combining such a well-known storyline with a highly produced theme has made this game a highly attractive title since its release. It's available in of the brand's partnered online casinos.
New Partnerships and Deals:
The release of Adventures of Ali Baba comes at the heels of the supplier's new partnership with BetClic. This deal is only a small part of this company's new expansion strategy that aims to introduce them to new markets where they are yet to establish a presence.
With that said, the company has also been recognized for the quality of their titles at G2E Asia earlier this year. Considering their overall popularity in fairly contested markets such as the United Kingdom, many are speculating that this company's Spanish campaign will yield similar results.
About the Brand:
Red has been producing high-quality online casino software solutions since 2011. However, it wasn't until 2015 that they have decided to…
… enter the real money side of the industry. Since then, this team of 40+ dedicated members has proven to be a formidable force in their niche.
More recently, the team has been working towards expanding its presence and acquiring new clients. The company is having a very successful year so far, while many are forecasting an even better last quarter.
At this point, the comapny promises to become an authority in online casino software on a global level, but especially in the markets where they have a presence.
Source: ""The Adventures of Ali Baba", the new video slot from RRG" https://www.redrakegaming.com/new/rthe-adventures-of-ali-babar-the-new-video-slot-from-rrg/. Red Rake Gaming. June 27, 2019.
Comment: The visuals in this game are really something else!
Author: Dusan Trifunovic