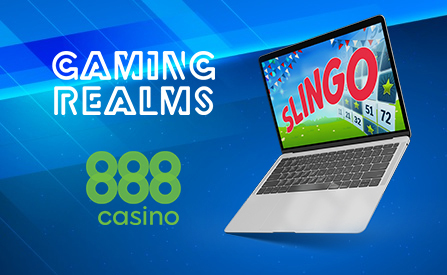 Gaming Realms, a mobile-first software provider and game developer, has announced that it will be extending its licensing deal with 888 Holdings. Per the newly negotiated terms, the latter will now be able to offer Slingo games through its B2C brand – 888casino.com. The renewed deal will allow both companies to experience new opportunities.
Furthering Cooperation:
888 Holdings has announced that it will be renewing and expanding the licensing deal with Gaming Realms.
This innovative, mobile-first software provider is known for its innovative…
…Slingo games that are gaining in popularity all across the world. The new deal will allow 888 to offer Slingo on its 888casino.com brand.
Being one of the most popular online operators…
…in the United States, this deal will definitely put Slingo to the test. So far the game has been available through Dragonfish, the developer's B2B platform. With this new deal penned, the company will start distributing the game via SG Digital.
888casino.com offers a wide range of online slot games as well as other iGaming content. However, the addition of Slingo is promising to give this operator the boostin fresh content that it needs.
888 Holdings is known for always looking for opportunities to enhance their service and give their users a better gaming experience. The new deal definitely puts them closer to that goal.
Michael Buckley, Executive Chairman of Gaming Realms, offered his take on the new deal: "Today's announcement reaffirms our strategy to continue developing and expanding our partnerships with the world's leading gaming brands. As one of the world's most popular online gaming providers with an established global user base, 888 provides the perfect fit for Gaming Realms as we focus on creating new and exciting games and bringing these to a greater international audience. We are extremely pleased to have extended our agreement and look forward to continuing to work closely with the team at 888."
Guy Cohen, SVP of B2C at 888, was also available for a comment regarding the licensing extension. "Our partnership with Gaming Realms is terrific news for 888 Casino players. We are always looking to cement bonds with the world's finest software providers, offering innovative solutions for our customers. Slingo, in particular, has been a sensation among players and we are pleased to ensure its place on the 888 Casino site."
About:
888 is one of the largest entertainment companies in the world. Founded in 1997 by two sets of brothers, the company offered one of the first online casinos in the world. Needless to say, it didn't take long for them to grow into a massive holding that includes 888casino.com – one of the most trusted operators in the United States.
Source: "Gaming Realms launches content with Sky Betting & Gaming in the UK and DraftKings in New Jersey, USA" https://www.gamingrealms.com/investors-news/gaming-realms-launches-content-with-sky-betting-gaming-in-the-uk-and-draftkings-in-new-jersey-usa/. Gaming Realms.
Author: Dusan Trifunovic