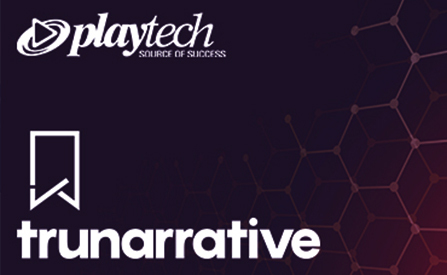 One of the leading games and solutions developers Playtech inked a strategic agreement with TruNarrative, risk and compliance specialist. Two companies will mutually strive to provide an integrated global compliance platform that will take safety to an even higher level.
The industry imposes numerous rules operators need to deal with, and adjusting global regulatory requirements is one of the most challenging ones. The united brands will try to remain adaptable to changing regulations and risks in diverse approved markets by building cost-effective compliance capabilities.
Mutually Beneficial Coalition:
Sharing his thoughts on collaboration with the global market disruptor in risk compliance and transactional monitoring solutions, Ian Ince, Head of Regulatory Affairs and Compliance at Playtech commented:
"The increasingly complex regulatory framework is the single biggest challenge facing gambling businesses operating in regulated markets. This partnership will help operators answer this challenge."
Under the terms of the alignment…
…the single and direct integration will enable operators utilizing Playtech's IMS platform to gain access to TruNarrative solutions. Playtech's clients will have multiple benefits from a single platform and will be able to manage customer risk more efficiently.
The spectrum of duties encompasses Age & Identity Verification, Document Validation, Safer Gambling Services, PEP & Sanctions Screening, and Ongoing Monitoring.
Anthony Evans, VP of Product Strategy at Playtech, said on the deal as follows:
"In linking Playtech's core gaming products and its BetBuddy safer gambling analytics software with TruNarrative's compliance platform, we are enabling operators to access a unique safer gambling solution."
Innovative Solutions for Enhanced Safety:
Besides headquarters in Leeds, TruNarrative has offices in New York, Hong Kong London, Beijing, and Singapore. Motivated by the idea to "To make safe commerce simple," they work passionately to transform the fraud, identity, KYC and AML process by continually delivering products built on state-of-the-art technology, and simultaneously bringing the best of data science to ambitious brands of all sizes.
Adam Doyle, Head of Gaming at TruNarrative, commented on the deal with Playtech:
"We are excited to be working with Playtech and are looking forward to delivering truly innovative customer onboarding, safer gambling and risk management solutions to its partners."
Attractive Business Partner:
Playtech is not only among industry's veterans, but giants as well, but the corporation keeps on growing continuously, thanks to the numerous partnerships.
Booming Games is among the most recent brands they teamed up with…
...enabling them to integrate the entire portfolio onto their Playtech Open Platform. BG's portfolio currently gathers around 60+ HTML5 games.
Besides this collaboration, the leading Isle of Man-approved brand sealed the deal with GVC . The contract aims to use mutual knowledge and expertise to establish a brand-new studio that will be focused on developing and producing live casino content.
SOURCE: "Playtech and TruNarrative join forces on safer gambling" https://trunarrative.com/news-resources/playtech-and-trunarrative/. TruNarrative. December 17, 2019.
Author: Dusan Trifunovic