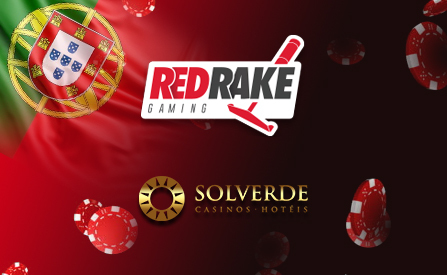 Red Rake Gaming (RRG) has signed a partnership deal with Solverde – one of the largest operators in the Portuguese markets.
The two companies are looking to establish a long-term relationship that will help them become more competitive in this country's domestic scene.
Valuable Partnerships:
The Spanish software provider, has been working on establishing a stronger presence in the Portuguese markets. Even though this company already works with operators in this European regulated market, they've recognized that there's plenty of room for growth.
As a result, this popular software provider has signed a partnership deal with Solverde – one of the largest and oldest casino operators in Portugal. With that said, the operator recently joined the online side of the business in 2017. Up until that point, this company's presence was mainly limited to the offline segment.
Per the new deal, Solverde's patrons will gain access to some of the most exciting titles to hit the industry in recent years. RRG is bringing on its A-game with slot games such as Super12Stars – a slot belonging to the Super series, and many more.
Nick Barr, Managing Director for Red Rake Malta, offered his comment regarding the new deal: "We are delighted to welcome Solverde to the Red Rake Gaming family. We have had an overwhelming reception from operators and players in Portugal, and to partner with one of the most renowned casino groups in the market is testament to our delivery of player focused content. We look forward to a strong and prosperous partnership."
Solverde has also commented on the partnership through this company statement: "With this partnership, CasinoSolverde.pt reinforces its position as the biggest online casino, having the wider game offer in the Portuguese market, along with the highest number of promotions and bonuses for the customers. "
About the Developer:
Red Rake is a software provider specialized in delivering high-quality slot games for the iGaming industry. The company has officially been in the business of creating awesome games since 2011. However, they have made the decision to join the realmoney side of the iGaming industry in 2015. Red Rake Gaming started out as a small team that only grew bigger as the company evolved.
As of right now, this brand is led by a team of over 40 talented professionals who understand what players want and need. Their dedication to the craft and overall refusal to compromise on quality has brought Red Rake several important partnership deals in the past. As a result, this company is currently present in some of the most contested regulated markets around the world.
Source: "Red Rake continues expansion in Portugal with Solverde" https://www.redrakegaming.com/new/red-rake-continues-expansion-in-portugal-with-solverde/. Red Rake Gaming. March 3, 2020.
Author: Dusan Trifunovic