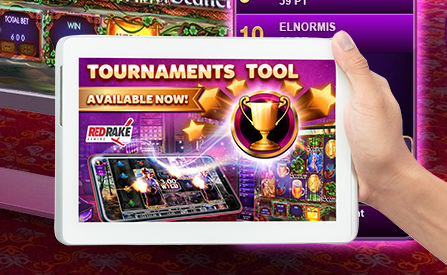 Red Rake Gaming (RRG), one of the leading software providers in the iGaming industry, has rolled out a brand-new set of tools aimed at giving their partners more flexibility.
The progressive real-time tournament feature is aimed at introducing progressive tournaments within the content released by this provider.
Additional Flexibility and Value:
The Spanish software provider, is continuing to improve its products. Namely, it has announced the release of a brand new progressive real-time tournament feature.
This innovative toolset is designed to…
…give RRG affiliated partners the ability to roll out progressive tournaments custom-tailored to their specific needs. The new tool was made in such a way that it allows seamless integration across all existing Red slot titles.
As for the players, this new feature is giving their gaming experience a whole new dimension. Now, with the introduction of the progressive tournament option, they will be able to earn prizes, build a score and compare their progress against other players. All of this will happen in real-time. Such functionality is not only going to give the existing user base of RRG partnered casinos something to look forward to, but it is expected to increase every partner's user acquisition as well.
Partners have the opportunity to fully customize each tournament, allowing them to adjust the overall player experience according to the occasion or their own needs.
Nick Barr, Managing Director for Red Rake Malta, commented: "We are pleased to offer our tournament tool to the market where we have created unique functionality that allows our partners to create customizable tournaments on Red Rake content and enhance the overall player experience in line with our partners marketing goals. There has been a growing demand for Red Rake's gamification tool where we are offering unique functionality to further enhance Red Rake's content offering. We are very pleased with the results from the pre-release and looking forward to seeing the results across the Red Rake network."
About the Supplier:
Red Rake is a leading software provider that is specialized in delivering high-end slot games to the iGaming markets all over the world. Founded in 2011, this company has started out as a social casino provider aiming to give players a more engaging experience. It wasn't until 2015 that the company had decided to cross over to the real money side of the business.
With the first real money game…
…published in 2016, it didn't take long for Red Rake to become one of the leading brands in the business. Affiliated partners, as well as players worldwide, have recognized the quality and value this company brings to the table.
Source: "Red Rake launch progressive real-time tournament feature" https://www.redrakegaming.com/new/red-rake-launch-progressive-real-time-tournament-feature/. Red Rake Gaming. May 21, 2020.
Author: Dusan Trifunovic