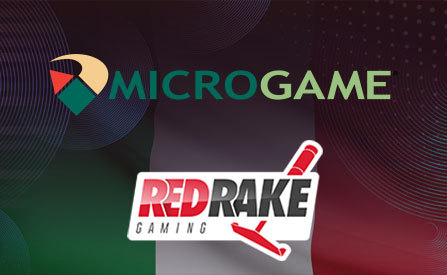 Red Rake Gaming, one of the leading software providers in the industry, has signed a content deal with Microgame – a content aggregation platform that mainly services the…
…Italian market. The newly signed deal will serve to bring Red Rake one step closer to a proper foothold among the Italian casino operators.
Expanding the Reach in the Old Continent
Red Rake Gaming, a Spanish based provider, is continuing their mission to expand its reach in Italy. The company has done a lot towards this goal, with the latest Microgame deal being…
…only the most recent step on this journey. The company is opening the new partnership with a strong hand. It will make the entirety of its portfolio available to Microgame, including some of their most successful slot game titles.
On the other hand, Microgame is getting a content boost. This content aggregation platform is currently offering slot game titles from a variety of critically acclaimed providers. On top of that, they are…
…servicing a vast portfolio of top tier operators. Names such as Merkur Win and GoldBet represent just a small part of their partner list.
Being mostly focused on Italian markets has made Microgame the prime target for Red Rake's expansion strategy.
Nick Barr, Managing Director for Red Rake's Malta operations, has offered a comment regarding the new partnership, saying: "This partnership is very important in increasing our foothold in the Italian market. Microgame have a very strong presence in Italy with numerous operators utilizing their system which is the perfect platform for Red Rake Gaming to expand its reach in the market. We are looking forward to working closely with the Microgame team and excited about what the future holds."
Microgame has also released a statement: "Microgame's strategy is to lead the market by introducing exciting new content, and the agreement with RedRake fits perfectly with our objectives. We are very happy to go live with their games in the coming weeks."
Red Rake's content will go live at Microgame and become available to online casino operators across Italy as soon as the cross-platform integration is completed.
About Red Rake Gaming
Red Rake Gaming is an innovative software provider that has been operating in the iGaming industry since 2011. However, it wasn't until 2015 that this company…
…went from social casino niche into the real money casino side of the business. Ever since then, they have become a household name that is known for delivering high-quality slot titles to customers all around the world.
With a team of 40+ dedicated professionals, Red Rake Gaming has been maintaining its position on the very edge of the industry's technological development. Aside from high-end games, this provider also…
…offers a top tier set of promotional tools that allow operators to manage their content more efficiently as well as take care of the entire back end side of daily operations with ease.
Additionally, the company offers the Replay tool that enables players to visualize the result of every game.
Source: Official Press Release "RRG continues its expansion in Italy with Microgame" https://www.redrakegaming.com/new/rrg-continues-its-expansion-in-italy-with-microgame/ redrakegaming.com September 11, 2019
Author: Dusan Trifunovic