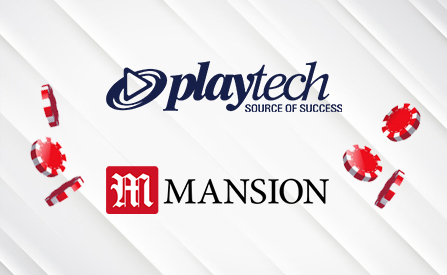 Playtech has announced that it has decided to extend its partnership deal with Mansion. The two companies have worked together as strategic partners, achieving…
…solid results in the Live Casino segment. The agreed-upon extension of the deal will add another 5 years to the contract.
Long Term Partnership:
The deal will extend to Mansion's operations in the United Kingdom as well as Italy.
The extended contract has brought new commitment from both parties. The operator will be introducing a dedicated Casino tab on its flagship brand, Casino.com. This popular…
…operator will be offering bespoke Live Casino streamed from Playtech's Eurolive facility. Patrons of Casino.com will soon be able to enjoy Live Blackjack and Live Roulette.
Shimon Akad, Chief Operating Officer of Playtech, commented on the deal: "We enjoy a close and collaborative relationship with Mansion, and they remain a key long-term partner for Playtech. We continue to grow with them and support their position as market leaders. Mansion's commitment to an exclusive Live Casino space for Casino.com is a significant step in taking the company's Live offering to a new level and creating a valuable new USP,"
Akad further went on to point out this extension of the contract comes at a very exciting time for this company. Playtech is currently developing its new…
…line of products focused around their Engagement Centre and Player Journey technology.
Enhancing Player Experience:
"It's fantastic to see such a key partner like Mansion actively investing time in utilizing new customer engagement tools to deliver an enhanced, personalized player experience. We look forward to continuing an ever-more successful partnership across all markets over the next five years," Shimon Akad added.
Karel Manasco, CEO at Mansion, also offered a comment regarding the new arrangement: "Our long-standing partnership with Playtech has been built on a strong and successful relationship. The recent launch of our dedicated Live Casino, a unique and tailored studio space, allows us to offer a more exclusive and personalized experience for our players. With Playtech's track record of innovation in this area, their engaging content will provide more choice to our growing portfolio and we're very excited to continue this partnership."
About the Supplier:
Playtech is a software provider known for its live casino games as well as its impressive slot game portfolio. Founded in 1999, the company has developed to become one of the main authorities when it comes to live table games. With over 5,000 employees under its wing, it is constantly working on developing new technologies and improving the end-users' experience.
The company currently operates from 17 different countries and enjoys 140 global licenses issued by 20 regulated jurisdictions.
Source: "Playtech extends agreement with Mansion until 2025" https://www.playtech.com/news/playtech-extends-agreement-mansion-until-2025. Playtech.February 3, 2020.
Author: Dusan Trifunovic