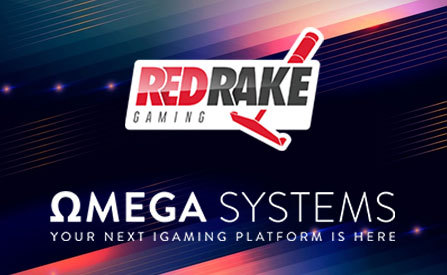 Red Rake Gaming (RRG), a Spanish-based content provider servicing the iGaming industry, has signed a content deal with OMEGA Systems – a content aggregation company that works with partners from all over the world.
Reaching New Markets:
RRG has been actively increasing its portfolio of partners this past year with a large number of…
…such deals brokered in Q3 alone. The deal with OMEGA Systems gives this provider access to new markets and audiences. Based in Malta, this content aggregation and consulting company is working with partners in areas where Red doesn't have a presence.
The company offers services through OMEGA Core – an integration platform that covers account management, regulations and compliance, info engines and much more.
With the addition of Red Rake, OMEGA is gaining access to some of the hottest slot game titles on the market as well as adding one more name to their list of top tier software providers. OMEGA's B2B partners can already find Microgaming's content on there, as well as NetEnt and others.
In return, RRG is keeping pace with its policy of sustained growth that has them expanding their presence with new player pools and online casinos.
Both companies have commented on the new deal.
Paddy Mann, OMEGA Systems Business Development Manager, stated: "Adding RedRake's content to our portfolio of supported games was an easy decision. Exciting games like Magic Wilds and Mystic Mirror have made waves in the industry and adding them to our back-office solution, OMEGA CORE, was the right move. Hopefully, this will be the start of a great partnership together."
Nick Barr, Managing Director for Red Rake's Malta operations, also offered his insight on the new deal: "It is great to be able to work with a partner who can support and facilitate our regulated market growth, allowing their clients to utilize all the markets we have entered and will continue to enter. I look forward to working closely with the OMEGA team and their clients to drive what I am sure will be a mutually prosperous partnership."
About RRG:
Red is a software developer and provider that specializes in creating high-end casino content. The company has been making online casino games since 2011. However…
…it wasn't until 2015 that they crossed from the social casino business to the real money side of the industry.
Since then, they have put together a massive portfolio of games that have earned them the reputation of a high-quality provider in the industry.
On top of their games, Red also offers complete promotional tools that allow their clients to utilize various bonuses and much more. All of these services are integrated within an…
…API that ensures easy integration of their content within the new or existing infrastructure. With a team of highly driven professionals behind the brand, this company's team is known for delivering high-quality content that is constantly being released. Red Rake's portfolio includes some of the hottest titles in the industry right now.
Source: Official Press Release "Red Rake Gaming's portfolio available through OMEGA SYSTEMS" https://www.redrakegaming.com/new/red-rake-gamingrs-portfolio-available-through-omega-systems/Red Rake Gaming. August 29, 2019.
Author: Dusan Trifunovic