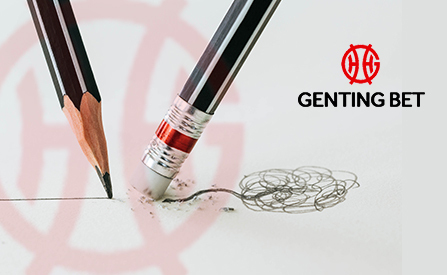 Genting, an iGaming operator that offers various services to their clients, has announced a complete revamp of their brand. The company wants to…
…put all of their services under one umbrella and brand it as GentingBet. Furthermore, this move will also serve to bring a new range of tools to the fold.
Following New Trends:
Genting has been around for decades, offering exclusive entertainment and leisure to their patrons. With the advent of the digital age, the company has recognized the importance of bolstering their online presence and making their services more accessible across the board.
Jeremy Taylor, Managing Director of Genting Online, offered a comment on the rebrand: "Our new GentingBet digital offering draws upon our 50 years heritage of providing a premium world-class casino experience across the globe to create a prestigious, unique and safe online gaming environment for our customers, 24/7 on any device."
"Following significant research and development, we've created a user-friendly and intuitive experience which we believe provides our customers with a truly world-class digital offering. We have also continued to place the highest priority on our commitment to responsible gambling. Through the tools we have in place on the website we have ensured our new gaming environment exceeds the expectations of the regulator rather than simply complying with the minimum requirements."
The decision to revamp the brand follows the new policy of expansion that the company is following. They are mainly looking to bolster their presence in various European markets as well as entering new markets. The company will offer titles from NetEnt and many other slots providers from the top tier segment.
Taylor further adds: "GentingBet is the online destination of choice for customers who want to enjoy the best of a premium and authentic land-based experience combined with a dynamic, exciting and safe online environment.
"And, as part of our evolution we're constantly refreshing and refining our product offering to ensure we provide the best selection for our customers. We have a fantastic range of online casino games, plus a dynamic and comprehensive sportsbook, but what is truly unique is our immersive range of live streamed casino games – all available regardless of what device customers play on."
About Genting:
The brand tracks its roots back to a single man driven by a dream. It started out as a resort, then a chain, only to finally grow into a massive entertainment and leisure giant. Based in Malaysia, it is one of the largest multinational corporations in the area. It wasn't long before the company branched out of the hospitality industry and well into…
…iGaming and other forms of entertainment. They have grown various online casino brands to a point where they are easily competing with various top players in the field.
This latest push to revamp the brand is a part of an effort to further broaden its market share and make their offer more competitive in the global markets.
Source: "Genting consolidates offering with GentingBet revamp" https://www.casinobeats.com/2019/09/02/genting-consolidates-offering-with-gentingbet-revamp/. Casino Beats. September 2, 2019.
Author: Dusan Trifunovic