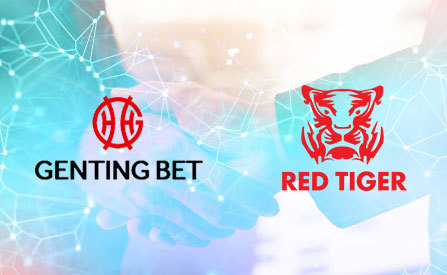 Red TigerGaming has signed a content deal with Genting UK's online brand – GentingBet. The new deal will open this software provider to a new…
…avenue of distribution and solidify their position in markets where they already have a presence.
Adding New Partners to the List:
Ever since they were acquired by NetEnt, Red Tiger has gone down a path of aggressive expansion in terms of their reach. The deal with GentingBet represents the first content deal in what is most likely going to be a long line of similar decisions. GentingBet will gain a lot from this deal, including some of Red's most popular titles.
Patrons of this online casino will be able to enjoy games such as Jack In a Pot, Pirate's Plenty, Muster Reels MegaWays and many others.
Adding the devloper to their offer will bring this legendary casino operation from the United Kingdom close to a competitive edge in markets they are active in. Prior to the acquisition from NetEnt, RTG has developed an advanced game engine that is making it easy for them to optimize their content for various platforms.
Aside from that, Red offers one of the strongest portfolios on the market, especially considering the unique aspect of some of their slot games.
Official Statements:
Jeremy Taylor, Managing Director of GentingBet, offered a comment regarding the deal: "We are constantly reviewing and updating our product offering to ensure customers have access to a wide variety of games. Our partnership with Red Tiger, one of the world's most innovative game developers, brings a broad range of casino slot games and unique gaming mechanics to our platform for the first time."
Carl Ejlertsson, Business Development Director at Red Tiger, added his take on the new partnership: "We're delighted to have launched with a brand as well-known and well-respected in the industry as Genting. We are confident that our games and the great promotional tools that come with them will resonate with their players, and we look forward to a long and successful partnership."
Patrons of the casino can expect the new content to be available as soon as the integration process is complete.
About the Supplier:
Red Tiger is a fast-growing software provider that is specialized in delivering high-end slot games. This company is known for its attention to detail and an entire range of highly innovative features. This company's latest contribution to the industry is the all-new game engine that will allow them to build faster,more optimized and less demanding games. Combined with a vast array of content management and back-office tools…
…it is offering what is arguably one of the most complete sets of services on the market at the moment.
Because of that, it comes as no surprise that this company was acquired by NetEnt earlier this year, in a massive deal. It will maintain its position as one of the more innovative players on the market with the newfound backing of its parent company.
Source: "GentingBet announces Red Tiger partnership" https://www.redtiger.com/news/gentingbet-announces-red-tiger-partnership. Red Tiger Gaming. October 7, 2019
Author: Dusan Trifunovic