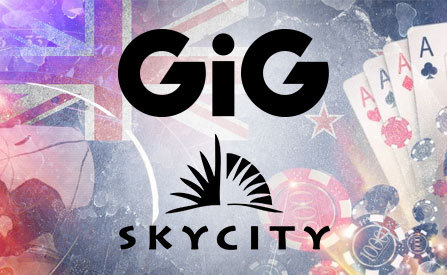 SkyCity Malta, a subsidiary of the Sky City Entertainment Group has partnered up with Global Innovation Group to launch an online casino.
The new enterprise will be servicing the New Zealand market. Both parties have worked for some time to make this deal happen.
Entering New Markets with New Partners:
Even though SkyCity Entertainment is based in New Zealand and operates in both their home country and Australia, the new online casino will run under GiG's Maltese license.
Such an arrangement will provide GiG with a chance to showcase their services in a new environment and offer complete technical support to the new casino, covering all aspects of the operation from slot games, to front end development, all the way to marketing and compliance.
"This is an exciting day for SkyCity and one we have been working towards for some time alongside SkyCity Malta and our partner GiG," said Graeme Stephens, Chief Executive Officer of SkyCity.
"While ultimately a regulated online gaming market in New Zealand remains the preferred solution, the site launch is another step on our journey of pursuing opportunities to grow and diversify our earnings, addressing a new, fast-growing industry which is highly complementary to our land-based activities and offering customers a multi-channel gaming experience."
Robin Reed, the Chief Executive Officer at GiG, also offered his comment on the new deal: "GiG is pursuing a strategy of becoming the global partner for strong brands in iGaming. SkyCity Entertainment Group is the largest and most reputable gambling and leisure firm in New Zealand. We are very proud to have been entrusted to provide our full suite of gaming services to them."
"It has been great to work with Graeme and his accomplished team and due to a great collaboration, we have managed to launch a state-of-the art digital casino experience only two months after signing the agreement. We are looking forward to supporting SkyCity in its aspirations to provide a leading online gambling venue in New Zealand."
This recent development comes at the heels of the New Zealand government's decision to possibly overhaul the country's gambling regulations.
As of right now, there are only two NZ-based entities that hold the necessary licenses to operate online casinos. As the government regulatory body has found out…
… such a decision has pushed an increasing number of players from this island country to seek their thrills with foreign-based operators.
About GiG:
Gaming Innovation Group is a software developer that offers niche slot game solutions along with…
…a variety of other software products meant to give operators full control over their online casinos. The company is present in a number of markets while they hold licenses in Malta, UK, New Jersey, Sweden, and Germany.
GiG takes pride in being able to deliver a complete service to their clients, which makes it easy for them to scale and improve their business.
Source: "GiG launches New Zealand online casino with SkyCity" https://www.gamingintelligence.com/business/53444-gig-launches-new-zealand-online-casino-with-skycity. Gaming Intelligence. August 9, 2019.
Author: Dusan Trifunovic