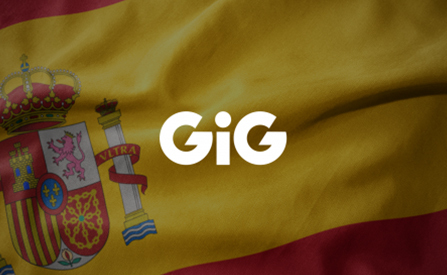 Directorate General for the Regulation of Gambling in Spain, the country's main regulatory body, has granted Gaming Innovation Group two licenses.
GiG can now legally offer online casino services as well as sports betting services in the nation. With this move, the company has become one of the few such entities to enter the newly regulated Spanish markets.
The plan is to get everything ready by the end of Q4 when the company is planning on rolling out first online services. The next step is to scale up operations in the first quarter of 2020.
Big Plans for Immediate Future:
GiG has entered the Spanish market through Rizk, which is one of the top brands in their lineup, which has also proven to be capable of operating efficiently in challenging environments and creating niche solutions for online casinos.
CEO of Gaming Innovations Group, Robin Reed, stated:
"We are delighted to be awarded the Spanish licenses and are looking forward to serving the market with our top performing operator Rizk and our full suite of B2C and B2B products and solutions. The approximately €1bn market is the strongest growing market in Europe, at a rate of approximately 20%* per year, yet only 12% of the gambling is happening online, compared to more than 50% in mature digital markets in Europe, this represents a great opportunity for GiG."
Crosshairs on South America:
Their latest move is only a small part of a much larger expansion campaign. This provider is looking to use the Spanish online gambling space as a gateway to Latin American markets.
In a way, they will be testing the waters in Spain and gaining experiences that will later be useful during their expansion into South America – a move which GiG's top brass rated as key to this company's future growth.
With an already established presence in the United Kingdom, Malta, Sweden, Latvia, and select German states, it is arguable that GiG has all the necessary knowledge and experience to tackle larger markets.
With things already in motion, we will definitely hear more about this company in the near future.
About GiG:
Gaming Innovation Group Inc. is an international company specialized in providing products as well as select services in the iGaming industry.
They are involved in both B2B and B2C sides of the industry, which makes them uniquely competent to tackle certain tasks. The company itself was founded in 2012.
With an official license in Malta, they have built a massive logistical network with partners located in various markets around the world.
Their quick rise through the ranks in the industry can be attributed to their…
… innovative Cloud-based solutions as well as performance marketing campaigns. The company is listed on the Nasdaq market as well as the Oslo Stock Exchange. The team behind the name GiG is made up of highly talented individuals and it is only going to grow.
This latest news regarding the company is the testament to the work and effort of this dedicated team.
Source: "Gaming Innovation Group Granted Online Gambling Licences in Spain" https://europeangaming.eu/portal/compliance-updates/2019/07/01/49539/gaming-innovation-group-granted-online-gambling-licences-in-spain/. July 1, 2019.
Comment: GiG is taking the aggressive route with new markets it seems.
Author: Dusan Trifunovic