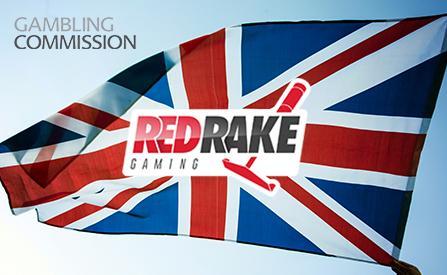 It's a good day for Spanish developer, Red Rake Gaming. Namely, they have obtained a Remote Gambling Software License from the UKGC (the United Kingdom Gambling Commission).
What Does This Mean Now?
Acquiring it means being able to supply the UK market with their best content. It seems like they couldn't have started 2019 better!
They have managed to gain extremely important B2B license which represents a tool that is going to help them reach other huge and prominent markets from the gaming industry.
Meeting The Demanding Expectations:
Their first set of games has already been checked by the UKGC and luckily, all of them have passed those highly rigorous tests, meaning they have completely met their standards!
This instantly means that now they will be able to confidently reach other markets and represent their brand-new games.
The UK Market As An Addition:
Although it's a sensational news with this whole licensing thing, Red Rake Gaming has already reached other markets, which means that this one is only a bonus.
They are already cooperating with various markets in Europe, such as Romania, Spain, Italy and Portugal and now with this license they will easily access the British users.
Nick Barr, Managing Director, Malta stated:
"Acquiring the licences to operate in the UK market is a great step in our regulated strategy for 2019. It will have an immediate impact as many of our customers have UKGC licences and they will be able now to offer our games to their UK player base. We are also excited by the opportunities that's the new license comes with and can proceed with many of the UK operators who have already requested our content. We are also very proud of obtaining the UKGC license as it is testimony of our commitment to responsible gaming and transparency of which the UKGC have the highest standards."
Bringing Back Blackjack:
With them you can never get bored. Last year in December, they have launched one of the most famous casino games, Blackjack.
Here you will encounter seven different games, plus you can also challenge the croupier by having from one to four bets per single game.
There is a small distinction between these games, enough just to spice things up and at the same time make the most of them.
For the fans of mobile phones, Red Rake made sure they have fun too by developing it for these devices also!
Source: "Red Rake Gaming Acquires UKGC Remote Gaming Licences" https://europeangaming.eu/portal/press-releases/2019/01/08/35900/red-rake-gaming-acquires-ukgc-remote-gaming-licences/. European Gaming. January 9, 2019.
"Red Rake Gaming Is Back With BlackJack" https://www.redrakegaming.com/new/red-rake-gaming-is-back-with-blackjack/. Red RakeGaming. January 9, 2019.
Comment: I'm so glad to hear that! These guys definitely deserve it!