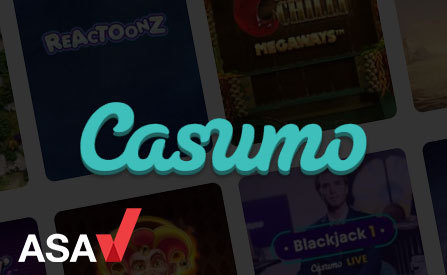 Advertising Standards Authority, also known as ASA, has banned an ad belonging to the online casino Casumo and issued a warning to this operator. The problematic ad has been found to…
…target players looking for ways to stop their gambling activities. As such, ASA has found it to be predatory.
The Importance of Responsible Gambling
Casumo was issued a ban on the ad they were running as it was appearing when people were searching…
…for "How to unsubscribe from all gambling" in Google. ASA has concluded that such quires wouldn't come from someone who was interested in gambling online and has instructed Casumo to immediately cease the problematic ad campaign.
The ad in question contained a clear invitation for new players to open an account, while it also offered up to 20 bonus spins free of charge.
This online casino operator was also warned not to run such ad campaigns in the future and to fulfill their obligation in regard to propagating responsible gambling.
"We considered such consumers would be likely to include vulnerable persons looking to restrict their exposure to gambling outlets and ads for gambling. The advertising code required that marketing communications for gambling should have particular regard to the need to protect vulnerable persons from being harmed or exploited,"said an ASA representative.
Casumo has since taken down the ad saying that they haven't specifically targeted the keyword "unsubscribe", but that they simply couldn't account for all of the…
…variations of keywords they did target. Furthermore, the company is arguing that the reason why the problematic ad was appearing to those searching "How to unsubscribe from all gambling" was due to them previously searching for online casinos.
A spokesman for Casumo has commented on the whole situation: "Casumo engaged fully with the Advertising Standards Agency throughout this process. Our position can clearly be seen in the response to the ASA in the publication and as stated in that publication we reviewed and adapted processes around this to ensure that we examine words that are or should be excluded from such searches going forward."
Following the whole exchange between this online casino operator and ASA, Google has also issued a short statement: "We require all advertisers to comply with local laws and regulations, including the CAP Code. We adhere to the ASA's rulings and we continue to review our systems to ensure that they remain relevant and useful."
Casumo has been at the crosshairs of the United Kingdom Gambling Commission earlier last year over failing to meet standards of protecting problem gamblers and preventing…
…money laundering through their online services. Considering the newly implemented national gambling strategy, it is fair to say that Casumo needs to be more…
…careful when it comes to their online presence in the United Kingdom.
The company will have to pay special attention to their ad campaigns going forward as ASA will most likely revert to heavily punishing any future incident of this sort.
Source: Niji Narayan "ASA Bans Casumo Ad for Targeting Problem Gamblers" https://europeangaming.eu/portal/compliance-updates/2019/10/10/56155/asa-bans-casumo-ad-for-targeting-problem-gamblers/ europeangaming.eu October 10, 2019
Author: Dusan Trifunovic