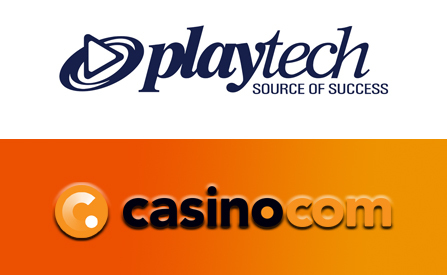 Casino.com has announced that they will be strengthening their brand with the addition of a brand-new live casino studio. The company will be…
…working closely with Playtech in order to ensure that everything goes smoothly. The online venue's live games will receive a massive boost with this deal, giving this casino a competitive edge.
Expanding Cooperation to a New Level
Casino.com, a Mansion Group's global brand, will be working with the developer on building their own live casino studio. The leadership of the casino has recognized that…
…the importance of quality live casino offerings when it comes to staying competitive in today's regulated markets. Their offering of slot games and other casino content has already made them one of the…
…more popular operators, however, the addition of a completely reworked live casino studio is promising to take things to a whole new level.
Playtech is a software provider with plenty of experience when it comes to live casino games. This company has been on the very edge of technological development in this niche, making them an authority. The operator's decision to work with…
…Playtech means that their patrons will be receiving the best of the best. The new live casino games studio will debut with the launch of live blackjack and live roulette. The deal signed between the two companies…
…leaves room for the expansion of services that would later add more tables to the fold. This way, players could have the opportunity to instantly grab a seat at a table via live stream.
Chris Mousdell, head of casino at Mansion, said: "Live casino is our fastest-growing product, so we're thrilled to offer exclusive tables, dedicated to our players. We'll be able to engage with our customers on a deeper level, offering a more personable experience through tailored promotions and our very own live dealers."
Kevin Kilminster, Playtech's head of live casino innovation, said: "Mansion has shown a significant commitment to the Casino.com live casino offering over the last 12 months, and the company's investment in an exclusive studio space is a key step in taking that business to a new level. The new dedicated space truly brings the Casino.com brand to life, creating the ideal opportunity for exclusive, tailor-made promotions. We are proud to have developed a long-term successful partnership with Mansion, and are confident that a bespoke studio area will create a key new USP for both existing players and newcomers to the brand."
About the Supplier:
Playtech is one of the largest content providers in the iGaming industry. The company has been around since 1999 and has quickly moved up the ranks, becoming an authority among its peers. Its dedication to spearheading technological…
…innovation has made them one of the most respected software providers in the industry. The company currently offers a massive portfolio of quality slot games as well as a selection of top tier live casino titles.
Source: Narayan, Niji. "Casino.com Launches Live Casino Studio" https://europeangaming.eu/portal/latest-news/2020/01/23/62451/casino-com-launches-live-casino-studio/. European Gaming. January 23, 2020.
Author: Dusan Trifunovic