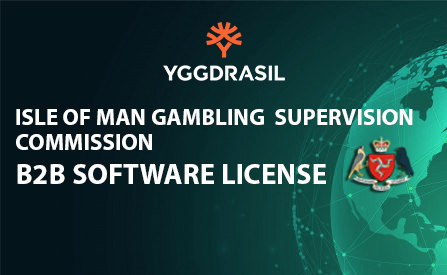 Yggdrasil, one of the largest software providers from the Nordic region, has just announced that they have secured the Isle of Man software license.
With the new license, this company has shown that its business practices meet the strict demands and requirements of the Isle of Man Supervision Commission.
Bolstering Commitment to Safe Practices:
The online gaming provider has added one more B2B software license to its arsenal. This time around the license is issued by the Isle of Man Supervision Commission, allowing this…
…Swedish giant to operate in markets governed by IoMSC. Aside from acquiring the license itself, the developer has also shown that they are fully…
…committed to safe practices and responsible gambling. IoMSC's gaming license requirements feature a variety of standards each applicant needs to meet. These include safeguards and policies put in place to make sure that players are…
…treated fairly and protected at all times. Considering its previous track record of stellar performance in regards to player rights, there weren't any indications that this side of the application would be an issue.
On the other hand, IoMSC's technical requirements are known for their complexity. Even so, it has adapted to ensure the absolute integrity of their slot games no matter what device they are being used on.
The newly acquired license is the eight Yggdrasil has obtained so far. This company is licensed to operate in the United Kingdom, Gibraltar, Malta, and Romania.
Fredrik Elmqvist, the CEO of Yggdrasil, offered a comment regarding the newly acquired license: "Ever since we began the business, we have been highly regulated and highly compliant in every major gaming jurisdiction. We take great pride in adhering to regulatory best practice and place great emphasis on compliance and responsible gaming across all our products. We're delighted to add the Isle of Man to this prestigious regulatory roster, our eighth B2B license, and I'm sure many more will follow in the years to come."
About the Supplier:
Yggdrasil is one of the more popular software providers from the Nordic region, offering a variety of content to the iGaming industry. The company was founded back in 2013 and has since...
…been dedicating most of their efforts to creating quality games for players worldwide. Aside from their own content, Yggdrasil works with a wide range of 3rd party providers who create exclusive slots for this company.
Its offer extends past games themselves to cover a variety of mission-essential tools. These give operators the ability to have better control over their content as well as the end user's experience. Driven by a team of dedicated professionals, it is…
…constantly looking to expand their offer and meet the ever-changing demands of the global market.
Source: "Yggdrasil granted Isle of Man B2B software licence" https://www.yggdrasilgaming.com/news/yggdrasil-granted-isle-of-man-b2b-software-licence/. Yggdrasil Gaming. January 8, 2020.
Author: Ava Jackuard