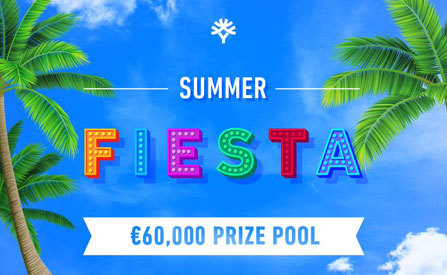 Yggdrasil, one of the leading software providers and operators in the European sector, has announced an interesting campaign for this summer. The company is planning on…
...delivering various prizes to their clients in a 10-day period this August. This cunning initiative will involve some of their most popular titles.
Summer Fiesta Drops:
The general idea is rather straightforward. The supplier is planning on giving out a total of €60,000 to their players who take part in special missions. The company has put together a…
… number of smaller campaigns that will include these jackpot drops. Spread out over a variety of their award-winning smash-hit slot games, the studio expects to achieve great results.
Among the titles that will be a part of the Summer Fiesta, players will find recently released games such as Jackpot Riders, Ozwin's Jackpot and Holmes and the Stolen Stones.
The brand has announced the beginning and end date for this season pass of sorts. Players can expect the start of the jackpot drops on August 8th, while the entire campaigncomes to an end on August 18th.
As far as participation requirements go, the campaign will be divided into two stages. In stage one…
… all players have to do is launch one of the designated titles and place a bet. This alone will be enough to potentially win one of the massive jackpots or other smaller prizes.
Stage two of the event will require players to complete various missions which could net them any of the 400 prizes allotted for this portion of the campaign.
Ana Georgieva, Head of Player Marketing at Yggdrasil, stated the following regarding the campaign: "We are excited to launch our Summer Fiesta campaign, which will surely make someone's summer holidays better and will bring a lot of smiles. For 10 days in August, Yggdrasil games will have the power to make our players' summers very special, and it couldn't be easier for operators to facilitate our campaign. Combining huge jackpots and fun missions, our Summer Fiesta has something for everyone, and we can't wait to have a great time with our fans."
One of the more interesting facts about this campaign is that it's all covered by Yggdrasil. Online casino operators aren't…
… responsible for any prizes their customers win, nor do they have to implement any changes to their existing infrastructure. The Sweden-based supplier and operator has it all covered.
About Yggdrasil:
Founded in 2013, Yggdrasil didn't take long to catch up and overtake some of the top suppliers in the business. Their software solutions and games have earned them a stellar reputation, especially among their peers. Today this company is considered…
… to be a true authority in the industry. Staying on the very top has been relatively painless for Yggdrasil as they are always on the cutting edge of innovation. With numerous operators under their umbrella, we are definitely going to…
… see this Nordic giant taking on more and more emerging markets around the world.
Source: "Yggdrasil goes wild with Summer Fiesta campaign" https://europeangaming.eu/portal/press-releases/2019/07/16/50600/yggdrasil-goes-wild-with-summer-fiesta-campaign/. European Gaming. July 16, 2019.
Comment: This is probably the best thing any online casino has done, ever! Can't wait!
Author: Dusan Trifunovic