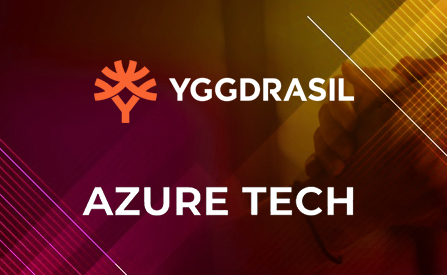 Yggdrasil Gaming has announced that Azure Tech will be joining its franchise partnership. Recognized as one of the emerging content providers, the latter is promising to become one of the leading sources of innovative content. By becoming a franchisee, it is set to reach its fullest potential in the short term.
The Rising Star
The Swedish supplier continues to expand its franchise with new partners. With Azure entering the franchise deal with Yggdrasil, it will gain access to a lot of proprietary technologies. Things like an end-to-end game development process as well as the now well-known GATI (Game Adaptation Tools & Interface) technologies will become available to Azure Tech.
Needless to say, its already impressive performance and growth will be even more accelerated thanks to this deal. Azure will be able to offer its own slot games and other content via its new partner's existing network, thus greatly boosting its reach in key regulated markets around the world.
Cora Chen, COO of Azure Tech, said: "We are very proud to expand our business cooperation with such an innovative and professional company as Yggdrasil. We remain amazed at how agile and responsive they are as a company and how Yggdrasil continues to deliver groundbreaking technologies that support faster time to market for partners' business needs. We are very excited to become a Franchisee of Yggdrasil, and we cannot wait to realize the potential of the GATI technology, to start collaborating with other Franchisees, and having full access to their best in class slots and table games."
Björn Krantz, Head of Publishing for Yggdrasil, said: "We are absolutely delighted to sign our second strategic Franchise partnership in just two weeks. With our new Franchise offering, Azure Tech will be able to scale its go-to-market operations and accelerate its business strategy in a way they did not think possible. GATI is a true disruptor technology. All our partners, being tightly integrated to GATI, will be able to cross-sell their games to any of our global Franchisees. This is a unique way to rapidly scale distribution and revenue opportunities at the same time as enabling completely new ways of working and collaborating. It's truly exciting times for us, Azure Tech and our Franchisees."
About Yggdrasil:
The Sweden-based is one of the largest software providers in Europe. This Nordic company has made a name for itself by creating highly immersive games full of innovative technologies.
Over time, the company grew to create its own content aggregation program, working closely with a wide range of 3rd party providers. Today, Yggdrasil is a massive authority in the iGaming world and is only growing its influence worldwide.
Source: "Yggdrasil expands strategic partnership with Azure Tech into Franchise" https://www.yggdrasilgaming.com/news/yggdrasil-azure-tech/. Yggdrasil Gaming. April 29, 2020.
Author: Dusan Trifunovic