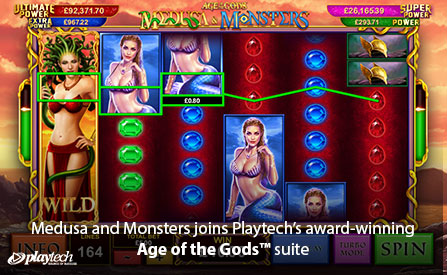 A Splashing Good Slot with Powerful Features:
Playtech, the UK technology leader who was founded in 1999 has released a news piece detailing a brand-new slot release, which will be joining the award-winning Age of Gods suite, but this time, instead of feisty vixens and powerful Gods, it features good and on the other end of the scale: Medusa…
…The Medusa and Monsters slot machine is the tenth Age of Gods video slot title and it features 5 reels and 164 ways to win, with four progressive jackpots – but these jackpots won't give themselves up too easily: as players will need to face the glare of the Gorgon's gaze, only then, will players be able to win the cash.
Femme Fatale:
Developed by Playtech's Ash Gaming Studio, Medusa and Monsters features an innovative reel design, with some of the most iconic Greek mythology figures, and not only that, but Cerberus (the multi-headed dog), Minotaur and Aphrodite (the Greek goddess of love) are also present on the reels.
The snake-haired Gorgon who famously turned her enemies into stone with one look, is the star of the show, but in this dark-themed slot, Medusa's power won't scare you; instead it will invite you in, because that death glare will freeze symbols into place on the reels, thus creating more chances to win…
…Unique Medusa wild symbols expand to fill the reels, while stacked shield characters will trigger the Medusa's Gaze extra spin feature. As with all slot games in the Age of the Gods series, this latest installment gives players the chance to win one of four progressive jackpots on any spin: the Power, Extra Power, Super Power or Ultimate Power jackpot.
Director of Casino at Playtech, James Frendo commented: "Age of the Gods has been an unprecedented success in terms of original content for Playtech, and we're delighted with the latest addition to the series. The Ash Gaming team has truly delivered on both gameplay and graphics for Medusa and Monsters, which we're sure will be another huge hit with Age of the Gods fans. Age of the Gods has proved hugely popular across both Casino and Live Casino, and more recently Poker and Bingo. No other brand crosses multiple verticals in this way, and we're confident Medusa and Monsters will be another key chapter in this success story."
Source: "Medusa and Monsters joins Playtech's award-winning Age of Gods suite" https://www.playtech.com/news/medusa-and-monsters-joins-playtechs-award-winning-age-gods-suite. Playtech. September 7, 2018.