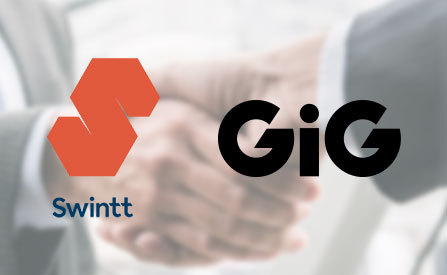 Swintt, an up and coming new software provider, has become a new partner of the Gaming Innovation Group. The deal carries a lot of weight for the newer provider as it is one of their largest distribution deals to date.
With GiG at its side, this company is looking to reach new markets and tap into previously unavailable user pools.
Gaining Initial Momentum:
Swintt is the new kid on the block. The company has been around for a short time, but is already proving to have plenty of potential. Being an up and coming software provider requires quality content…
…but also an initial boost in terms of distribution. Its decision to partner up with GiG opens them up to a proven distribution chain with plenty of top tier operators working in most highly competitive markets including Sweden and others.
As a part of the content deal, it will serve up over 50 slot games from their current catalogue and make them available to GiG partners.
Those affiliated with this content aggregation platform will have the chance to sample some of the best titles it has to offer. Slots such as Master of Books, Heart of Earth and Wild Wild Witch, are most likely to spearhead the integration process on the new platform.
Comments on the Deal:
David Flynn, CEO for Swintt, offered a comment regarding the deal: "I am thrilled to be announcing this deal between Swintt and GiG. Our focus in delivering high quality, localised content for growth markets directly appeals to the GiG brands and their platform customers. They are also a company that share our values of corporate social responsibility and responsible gaming, making this deal a perfect partnership for mutual growth."
Ben Clemes, CCO at GiG, also offered his insight: "We have been very impressed by the depth and appeal of the Swintt portfolio, which is notable despite their short history. Being able to partner a start-up game provider in their early stages and working closely with their team is very exciting as we get to offer the latest games and innovations they provide not only to our player base but also our platform clients."
Online casino operators affiliated with GiG will gain access to the new content once the deal is finalized.
About:
Gaming Innovation Group is a technology company that offers a wide range of support services in addition to a popular content aggregation platform. Aside from that, it also owns six different customer facing brands that operate in a number of different, highly competitive markets. At the moment, GiG is licensed to offer their services in Malta, UK, New Jersey as well as Sweden.
With that said, it has strong ambitions of acquiring licenses in other European markets such as Denmark and Spain. Its dedication to quality of service has made it the go-to choice for numerous operators as well as content providers. It enjoys the reputation of a trusted industry authority.
Source: "Swintt signs landmark deal with GiG" https://www.swintt.com/#swinttnews. Swintt. November 14, 2019.
Author: Dusan Trifunovic