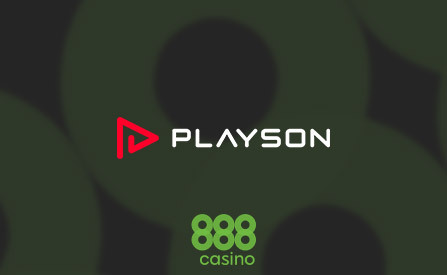 In a thrilling development, the collaboration between Playson , a late but significant entrant to the world of online gambling, and 888casino, a leading online casino brand, has taken an exhilarating leap forward. The expansion of their partnership has made it possible for players across Europe to delve into the captivating universe of Playson's top-notch slot games.
This fascinating expansion opens the gaming landscape for avid gamblers in Italy, Sweden, Denmark, and Romania. These players can now immerse themselves in 13 of Playson's most sought-after slots, alongside an impressive array of over 2,000 titles already available on 888casino.
Diving into the Top Playson Games on 888casino
Among the compelling games Playson offers are titles from their celebrated Hold and Win series, including the wildly popular Lion Gems, Luxor Gold, and the magical Royal Coins 2. Players have a lot to look forward to as they embark on unforgettable gaming adventures through these thrilling slots.
Despite being a relatively recent arrival in 2012, the developer quickly established a strong foothold in the largely open European online gambling market. Their late entry hasn't hindered their rapid rise, as they've persistently focused on enhancing their offerings and embracing market trends.
Playson is notable for its swift and strategic responses to evolving market trends. A prime example of this is their timely shift from Adobe Flash Player to a mobile-friendly format, when mobile casino gaming was still in its infancy. They've shown remarkable adaptability, reinforcing their reputation as a trendsetter in the online gambling scene.
Tailored Experience Across Multiple Devices
Every game offered by Playson is a unique creation, painstakingly crafted from scratch by their in-house team. The games are meticulously designed for compatibility across a wide range of devices and operating systems. This thoughtful approach ensures a smooth and engaging gaming experience for players, whether they prefer to play on their laptop, tablet, or smartphone.
As we venture further into this thrilling expansion of Playson and 888casino's partnership, one thing is clear: a world of exciting and immersive gaming experiences awaits for European players. And with Playson's commitment to constant innovation, there's always something new on the horizon.
Christos Zouliantis, Head of Partnerships at Playson, said: "We are thrilled that 888casino will be showcasing some of our best titles across four of the most revered markets in Europe. It takes our existing partnership to the next level and demonstrates the faith that 888casino has in our games offering to deliver exciting experiences."
Source: "Playson Extends 888casino Partnership Launching Across Additional European Markets" . Playson. May 16, 2023.
Author: Ivan Stefanovic