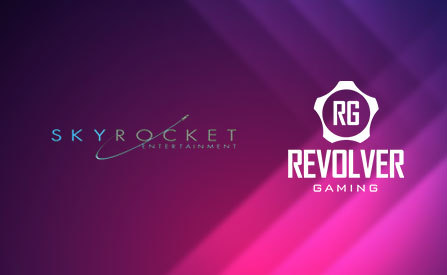 Skyrocket Entertainment's newly-acquired, The Gaming Company, a studio specialized in creating quality casino games, has signed a content deal with Revolver Gaming. The new deal was negotiated and…
…finalized by the high-level management of both companies. In the future, both companies will offer portions of each other's portfolio to various B2B clients they're working with.
A Head Start:
The Games Company (TGC), a freshly founded subsidiary of Skyrocket Entertainment, is looking to hit the ground running and take on some of the…
…most competitive markets of Europe. The deal with Revolver– a software company from the United Kingdom, specializes in designing high-end slot games, is promising to give them just the kind of head start they need.
Namely, The Games Company will spearhead this deal withtheir current A team lineup of slot games. Some of the titles from this group include the Hippie Chicks, Super 7 Wilds, Cash Cowboy and more. The company…
…offers a number of branded and non-branded titles as well, most of which have been proven to be fairly successful so far. With a number of branded titles in the works per their 2020 schedule, The Games Company is promising to be one of the most successful up and coming studios next year. Thanks to this content deal, Revolver will have access to the entirety of TGC's portfolio in the future.
On the other hand, Revolver is offering their flagship titles such as the Multiplier man, Neon Blaze and Squish to TGC and their network of online casino operators.
Richard Clarke, Skyrocket COO, commented on the new deal: "We are excited to be a part of Revolver Gaming. Not only do they have a solid reputation for quality and innovation, but the partnership will significantly help broaden our reach in delivering exciting and standout content for new players to enjoy. We look forward to building a long and successful relationship together."
Ryan Lazarus, Revolver CEO, offered his take on the partnership: "We look forward to bringing Skyrocket onboard our new aggregator platform and believe their advantage in branded content will provide a boost for our existing portfolio offering to operator partners. This relationship being reciprocal, we are delighted that Skyrocket will be integrating our content for distribution to their network. This is truly a win-win partnership!"
About the Developer:
Revolver is a London-based software provider that has been specializing in creating high-end, cinematic slot games for the iGaming industry. So far, the company has managed to strike gold with more than a few titles proving to be a capable player in today's competitive markets. With that said, the company is constantly looking for ways to expand their reach in key regions and enlarge their distribution network.
The deal with Skyrocket Entertainment's TGC is promising to help them with this goal and bring them more exposure to user pools they had no access to prior. With a highly dedicated and talented team, it is slowly becoming a true voice of authority in the industry.
Source: "Skyrocket's The Games Company Signs Content Distribution Deal With Revolver Gaming" https://revolvergaming.com/news/skyrockets-the-games-company-signs-content-distribution-deal-with-revolver-gaming/. Revolver Gaming. November 26, 2019.
Author: Dusan Trifunovic