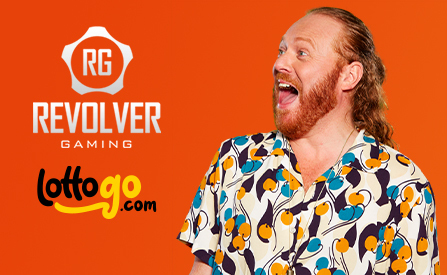 Revolver Gaming, a prominent software provider from the UK, has announced that it will be working closely together with Annexio's Lottogo brand from now on.
The two companies have signed a partnership deal that will start the exchange of content and experience between the new partners.
Conquering the Domestic Market:
Revolver is a relatively young software provider located in the United Kingdom. The company is somewhat unique in the sense that it has been focusing on conquering its domestic market first. With that in mind…
…it has signed a content deal with Lottogo – an Annexio brand. Per the agreement, Revolver will make their content available to their new partner through Pariplay's FUSION content aggregation platform.
Patrons of this online casino will have the chance to try out some of the developer's most successful slot game titles. This provider is looking to…
…leave great first impressions by leading the content exchange with games such as Multiplier Man, Squish, Neon Blaze and many others.
Expanded UK Presence:
In return, Revolver is getting a much larger presence in the United Kingdom, which is its ultimate goal. Adding Lottogo to its distribution network marks a decent contribution towards becoming one of the UK's largest software providers on the market at the moment.
Ryan Lazarus, CEO of Revolver, has offered his take on the newly signed deal: "We're very excited to be partnering with Annexio, they have an amazing brand in Lottogo and we believe our content is well-targeted to their player demographic."
Paul Haynes, Casino Manager at Lottogo, has also commented on the new partnership: "The high-quality content from Revolver Gaming is a great enhancement to our gaming portfolio, and I'm sure our customers will agree. I've no doubt this will be a successful partnership for both companies."
Patrons of the Lottogo online casinos will have the chance to try out the new content as soon as the integration process is completed.
About the Developer:
Revolver is a UK-based software provider with the HQ located in London. This company is specialized in creating innovative and high-quality slot games. Their releases are known to range from the more…
…modern takes on the one-armed bandit, to the old school fruit slots the industry was built on. Despite being a relatively young company, Revolver Gaming has become a well-known name in the business. Another thing that…
…makes this company stand out is their dedication to conquering the UK domestic markets before taking on other regulated markets around the world. So far they are…
…doing a very good job at this as the player base has offered nothing but warm reception to most of their games. Revolver takes pride in creating HTML5 games that can run on just about any platform with proven reliability and performance.
Aside from these services, it also offers custom game design and development, which covers everything from art to bespoke programming services.
Source: "Revolver goes live with Annexio premium brand "Lottogo"" https://revolvergaming.com/news/revolver-goes-live-with-annexio-premium-brand-lottogo/. Revolver Gaming. January 7, 2020.
Author: Dusan Trifunovic