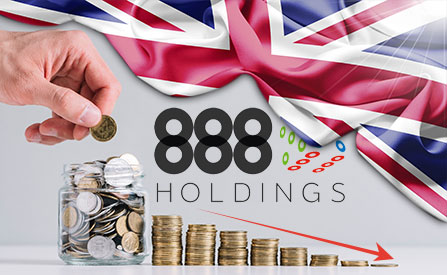 888 Holdings is one of the world's most popular online gambling operators and software providers and is estimated to be worth 541.8m US dollars, but that hasn't stopped the FTSE listed company feeling squeeze. Shares in the gambling operator fell by almost 9% on Thursday 4th October after the sharp decline in UK revenues. The shares in the gambling firm fell after its half-year results for the six months to the end of June...
...888 saw its UK revenue decrease by almost 18% to $87m, which is just a third of 888's total sales, compared to the same period the year before.
The Cause?
Higher taxes and changes to regulatory crackdown are partly to blame. Anti-money laundering and increasing customer protection have been implemented by the company over recent months, which seems to have contributed to the losses. In 2017, 888 was hit with a record £7.8m fine from the Gambling Commission, for failing to protect venerable customers.
Itai Frieberger, chief executive of 888 Holdings said sales had improved since then 'This follows the proactive and prudent customer protection measures that we have implemented over the last 18 months which have adversely impacted revenue'
It's not all doom and gloom though, as the company reported a pre-tax profit of £60m, which is up on the £17m profit from the previous year.
Source Menmuir, Ted. 'Forward Looking 888 Adjusts To Stricter UK Regulatory Environment' https://www.sbcnews.co.uk/europe/2018/09/27/forward-looking-888-adjusts-to-stricter-uk-regulatory-environment/ SBC News September 27, 2018.