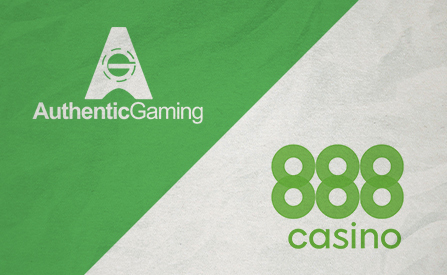 Authentic Gaming (AG) is moving forward with an 888 Holdings content deal.
This provider has decided to add the operator to its list of distributors and is…
…looking forward to the newly available markets this deal brings to the table. On the other hand, 888 stands to gain one of the more impressive live casino portfolios out there.
Going Live in New Markets:
The new deal will open this provider's complete portfolio to…
…888 patrons in the United Kingdom, Sweden, and other countries. AG is entering this deal strong with its 24/7 Roulette, Grand Roulette, and other popular products.
The operator runs one of the largest online casino networks in the world. The company is known in numerous regulated markets. Its 888Casino brand has become a household name in certain markets.
With that said, the operator is always…
…on the lookout for quality content to bring to its patrons. The company has taken down its flagship brands for a complete overhaul, in order to improve the player's experience. Working with Authentic Gaming perfectly aligns with that policy of quality above all.
Jonas Delin, CEO of Authentic, shared his take on the new deal: "This partnership with 888 is a breakthrough moment for Authentic Gaming and marks our arrival as a leading live roulette provider. 888 one of the world's leading online gaming and entertainment solutions providers and we are thrilled to offer our games to its players. Live roulette is enjoying a surge in popularity as players seek out a more authentic online casino experience, and our games have been designed and developed to provide the most engaging and thrilling experience which complements 888's existing games for its players."
Guy Cohen, SVP B2C at 888Holdings, also added: "At 888, we are focused on offering our players a wide portfolio of games. We are pleased to add the live roulette provider, Authentic Gaming, to our platform and we look forward to working with them in the future."
More on the Operator:
The 888 brand is one of the oldest online casino brands in the industry. The company was founded in 1998 by enthusiasts who wanted to bring the casino business into the new age. Needless to say, they've achieved their goal. Back then, the brand grew exponentially thanks to its quality of service, the number of solid services they offered, and the overall player experience. Not much has changed since then. It still holds all of these things at high regard but is now running a whole array of successful brands with an international reach.
Source: Narayan, Niji. "Authentic Gaming Partners with 888" https://europeangaming.eu/portal/latest-news/2020/06/22/72776/authentic-gaming-partners-with-888/. European Gaming. June 22, 2020.
Author: Dusan Trifunovic