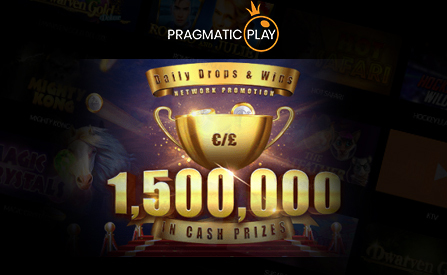 Pragmatic Play, a premier provider of slot games and other software for the iGaming industry, has decided to treat their…
…fans with a massive promotion deal that will involve numerous cash prizes adding up to €1,500,000 in total.
Starting the New Year in Style:
The software provider with offices in the United Kingdom and several other locations around the world, has broken the news of an upcoming promotion. Set to last for the first 6 months of 2020, this Network Promotion…
…will allow players to win up to €1,500,000 in cash prizes in total. Its marketing team has put together a number of activities that will fill out the announced six-month period.
Players can expect to see weekly tournaments where special prizes will be offered, as well as Daily Prize Drops that will account for €250,000 each month while promotion lasts.
Pragmatic has selected a number of games that will qualify for this promotion. These include some of the top performers such as the John Hunter series of slot games, Gold and others.
Operators to Take Part with Ease:
The company has decided to sponsor the entire promotion on their own. This makes things much easier for participating online casino operators as…
…they will be using the already familiar Pragmatic Play Enhance tool. Alongside their API, these tools will enable operators to seamlessly keep up with the promotion while it lasts.
Renata Banyar, Head of Promotions at PragmaticPlay, has offered a comment regarding the promotion: "We are thrilled to announce our biggest Network Promotion yet, which is set to pay out a staggering €1,500,000 to Pragmatic Play fans. Pragmatic Play Enhance, our all-new in-game promotional tool is designed to create non-stop gaming excitement! The promotion adds even more incentives for players to enjoy Pragmatic Play games and it's completely customizable to suit operators' requirements."
Interested players should look into whether or not their favorite operators are participating in this promotion. Pragmatic will be cooperating with a limited number of partners for this project.
About the Supplier:
Pragmatic is a software development studio founded in 2015. Being such a young player in the iGaming industry has…
…put this company up against some of the well-established names. However, the team behind the Pragmatic brand has had no difficulties moving up the ladder in the industry. It has moved up to a point where it's…
…become one of the most respected authorities in the industry. The company offers innovative products that are designed with the player in mind. It is proud to offer slot games, live casino, bingo and a more via one single API.
Thanks to their innovative ideas, new technologies and efficient integration methods, the brand has managed to build a considerable distribution network that includes a number of top tier operators in key regulated markets.
Source: "PRAGMATIC PLAY WELCOMES THE NEW YEAR WITH A GIGANTIC NETWORK PROMOTION" https://www.pragmaticplay.com/pragmatic-play-welcomes-the-new-year-with-a-gigantic-network-promotion/. Pragmatic Play. January 16, 2020.
Author: Dusan Trifunovic