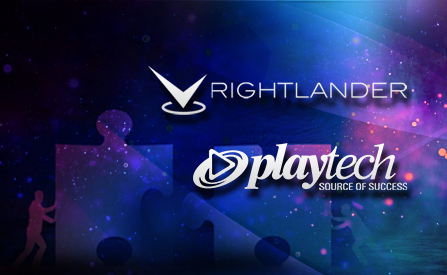 Playtech, one of the largest providers of casino content in the industry, has announced a partnership deal with Righlander – a compliance specialist.
This newly signed deal will have both entities working closely together and offering their services to B2B clients together.
Meeting Compliance Norms:
Playtech has been investing efforts into improving the quality of its services going beyond slot games and gaming content in general.
The company has recognized the importance of meeting…
…various compliance standards in key European markets. As a result, it has signed an important partnership deal with Righlander. Being one of the leading companies in the compliance solutions industry, its new partner has the necessary expertise to bring its vision to reality.
Righlander will be offering its solutions operators affiliated with Playtech as well as this provider's IMS platform. The main product that will be implemented is the automated compliance monitor. This tool automatically flags non-compliant content across several key markets such as the United Kingdom, Sweden, Australia, and the United States among others.
Anthony Evans, VP of product strategy at Playtech, has offered a comment regarding the new deal: "We are delighted to welcome Righlander to our SaaS program, designed to offer our customers access to specialist services from carefully selected third parties. At Playtech, a key part of our mission is to equip licensees with the tools they need to comply with the most stringent of regulatory requirements. Righlander represents exactly what we are looking for in a SaaS partner, offering both an understanding of the unique demands of the gambling industry and the specialist technology to address one of its major compliance challenges."
Ian Sims, the founder of Righlander, also shared his thoughts: "It's great to see Playtech taking steps to help its operators be as compliant as possible when it comes to the often-challenging area of affiliate compliance. Our technology does much of the heavy lifting, allowing operators to clearly see the publishers linking to their brands and be notified of any violation events that occur. This is a commendable move from Playtech and we encourage other platform providers and operators to take additional steps to improve affiliate compliance."
The new tool is meant to help online casino operators and Playtech stay on top of their compliance game, allowing them to deal with expired deals, compromised marketing campaigns and other issues in a timely manner.
About:
Playtech is an iGaming software provider founded in 1999, making it one of the oldest such entities in the business. The company has been present at the very edge of technological advance when it comes to various gaming solutions including slot games and others. With a massive portfolio of games, it remains one of the most important factors in the modern iGaming markets.
Source: Narayan, Niji. "Playtech Signs Compliance Deal with Righlander" https://europeangaming.eu/portal/compliance-updates/2020/02/27/65115/playtech-signs-compliance-deal-with-righlander/. European Gaming. February 27, 2020.
Author: Dusan Trifunovic