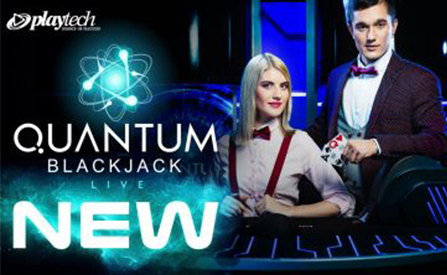 Playtech, one of the largest names in the industry, has just set new standards by introducing unique new services called Live Slots and Quantum Blackjack.
Its team has found a way to approach the already popular casino games from a whole new angle and give them a refreshing feel.
New Angle on Old Games:
Playtech is one of the brands known for being the driving factor behind the iGaming industry. They have justified such reputation by releasing Live Slots and Quantum Blackjack. These new services…
…combine several aspects of already familiar Live Casino shows. Live Slots is being streamed from a live studio with hosts leading the whole experience. The way Playtech has managed to turn a single experience that is a slot game into something suitable…
…for a live show is ingenious. They have added a community factor to the gameplay. Namely, there are 'community spins'where players work together to set various parameters of the game. Once they've chosen the limit, bet per spin and number of spins, the game…
…goes on autopilot.
A Similar Offering:
Quantum Blackjack is a game similar to the brand's existing Quantum Roulette. The new offering adds a multiplier based element to the core Blackjack experience, giving payers random multipliers of x3, x5 or x10 as they draw their three cards.
The idea is that scoring a winning hand with one of said multiplier cards in your possession will apply that multiplier to the won amount.
Kevin Kilminster, Playtech's head of innovation for live casino, has offered his comment regarding the Live Slots: "Live Slots is a genuinely new concept within the industry, delivering an engaging new style of gameplay for players and creating an exciting cross-sell opportunity for operators. The popularity of live play streaming via social media demonstrates a player demand for an interactive feel – the experience you would enjoy when playing alongside others in a land-based casino."
Kilminster further goes to explain the Quantum Blackjack, stating that: "Quantum Roulette has been one of Playtech Live's biggest launches of the year, thanks to both its immersive visual atmosphere and the unique multiplier win concept. We're confident that, as the first-to-market multiplier-based Blackjack game, Quantum Blackjack will prove equally popular and set the tone for future Quantum Releases. With more than 20 additional live variants also launched this year, including American Roulette, Dragon Jackpot Baccarat, All Bets Blackjack and Casino Stud Poker to name but a few, everyone at Playtech is already looking forward to raising the bar even further in 2020."
About the Brand:
Playtech was founded in 1999 and has since grown to become one of the industry leaders when it comes to quality and innovation. The company is known for their slot games but also…
…a whole variety of live casino services that have made them very popular in this growing niche.
Source: "Playtech launches industry-first Live Slots and Quantum Blackjack games" https://www.playtech.com/news/playtech-launches-industry-first-live-slots-and-quantum-blackjack-games. Playtech. December 19, 2019.
Author: Dusan Trifunovic