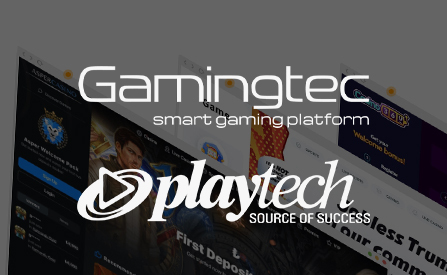 Gaming software company Playtech enters into a content distribution deal with online gaming provider, Gamingtec from Ukraine. According to the deal, Gamingtec will expand its portfolio with slots and other casino games. Thanks to this, Playtech will expand its already gigantic library, which includes more than 10,000 well-known games all over the world. This deal marks another strategic goal for both United Kingdom and Ukrainian casino providers. The Ukrainian company is ready to build strong and trustworthy partnerships with well-known brands in the iGaming industry.
Commitment to Collaborate with an Industry Leader:
Gamingtec provides flexible end-to-end software solutions for international online casinos, sports betting brands, bonus systems, and they deliver one of the best payment services!
Liam Mulvaney, Commercial Director at Gamingtec, commented:"The deal with Playtech shows our commitment to partnering with industry leaders, while at the same time supporting and nurturing some of the most exciting new startups in the gaming space through enabling technology like the CORE platform. We're thrilled to be working together and hope it's the start of a long and fruitful relationship."
James Frendo, Casino Director at Playtech, commented:"We are very happy that Gamingtec has chosen Playtech as its technology partner, highlighting the continued strength of our Casino and Live Casino games offering. Playtech's innovative and entertainment-led games portfolio is a powerful offering for potential partners, and this is a great example of our commitment to partnering with the right companies to bring great content to new and growing markets."
More on Playtech:
Playtech, an online casino provider, emerged in the iGaming industry in 1999 and since then, has strived to be a major brand in the global gaming market. The company has solidified its position in the industry by providing clients, the most advanced and engaging games ever. It provides top-quality features, and its games are adjusted to work smoothly on different platforms and devices. In addition to a wide range of games, the company offers cross-platform management services and specialized tools. This brand has gained a worldwide reputation and credibility in the gaming market and is an important force in the competitive industry!
Source: "Gamintec forms new content deal with Playtech" . iGaming Business. July 13, 2021.
Author: Ivan Stefanovic