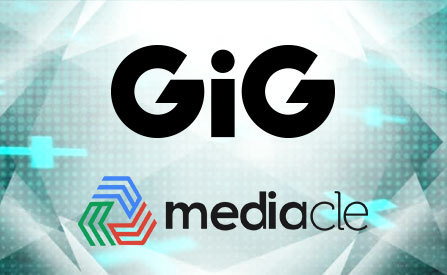 Gaming Innovation Group has signed a consultancy deal with Mediacle, a digital marketing agency, which should…
… help GiG establish a more stable presence in existing markets as well as create a solid foothold in emerging markets around the world.
Streamlining Company Image and Presence:
Gaming Innovations Group, the brand behind popular slot games and casino brands, is making strides in their effort to establish a more positive presence in…
… newly-regulated markets. Their decision to contract Mediacle, a digital marketing agency specializing in iGaming businesses, is promising to yield concrete results in the short term.
Mediacle has 4 decades of experience with iGaming businesses and knows the industry very well. With such a powerful ally on their side, it is…
…reasonable to say that GiG is going to greatly benefit from this arrangement in their future endeavors.
Ross Parkhill, Director of Casino for GiG's in-house B2C brands, stated the following regarding the new deal: "We are pleased to have tied up with Mediacle and look forward to working with them to support our marketing strategy and expansion into new markets. Mediacle will help our flagship brand Rizk provide a localized offering for our players, improving player acquisition and retention."
Their new partners have also offered a comment regarding the newly forged partnership.
"We are thrilled to have signed such a leading name as GiG and we are looking forward to working with its team. We have certainly emerged as one of the most successful digital media and IT solutions companies offering dynamic and cost-effective marketing solutions to highly renowned brands in the gambling industry. The agreement with GiG is a testament to our commitment, growth, and deliverability," Santosh Jain, CEO of Mediacle said.
With improved player response to their flagship brand, GiG will definitely see a much smoother entry on newly regulated markets. Being able to…
…attract new players and keep them playing is a highly sought-after skill in today's iGaming industry. With the help of Mediacle. GiG could potentially offer exactly that type of performance to their new and existing clients.
This software provider with offices in the United Kingdom among other places is definitely on a path of sustained expansion.
About GiG:
GiG, or Gaming Innovation Group, is a technology company that operates within the iGaming industry and offers cutting edge Cloud-based solutions to their clients. The company is…
…operating within the B2B segment of the industry and delivers custom-tailored Performance Marketing products to their partners.
On top of that, it operates six brands of their own, that include online casinos among others. These businesses allow them to stay in touch…
…with the end-user and always have a good feel on what the market wants and how it breathes. Its slot titles have also brought them a lot of attention in recent years.
They are one of the premier…
…software studios that is always looking to offer a new and unparalleled experience to their user base. With these recent decisions, the company is taking all the necessary steps to prepare for whatever challenges the future holds.
Source: Narayan, Niji. "Gaming Innovation Group Signs an Agreement with Mediacle" https://europeangaming.eu/portal/latest-news/2019/07/29/51498/gaming-innovation-group-signs-an-agreement-with-mediacle/. European Gaming. July 29, 2019.
Comment: Kudos to GiG for turning to 3rd parties for help with their weak points. That takes courage.
Author: Dusan Trifunovic