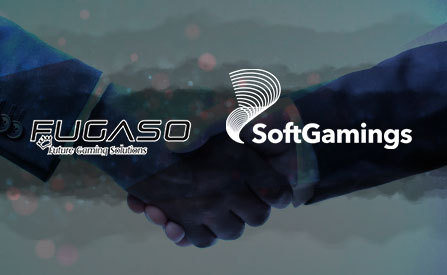 Fugaso and SoftGamings have agreed upon the terms of a content deal that will open the former's portfolio and make it available to its newest collaboration partner. The decision to add this content aggregation platform to…
…their growing distributor network has given Fugaso a chance to increase exposure to their titles with a solid partner.
Expanding the Network:
The Russian based provider, also known as Future Gaming Solutions, offers some of the most unique solutions to operators around the world. This company boasts a range of technologies…
…that enable their clients to quickly and efficiently engage various features that have immediate impact on the customer experience, acquisition, retention and overall engagement.
The recent deal will give Fugaso's complete product package a chance to reach new clients and tap into user pools that were out of reach prior to this agreement. On the other hand, SoftGamings…
…is expanding their offer with some of the hottest titles on the market. Operators from their network will gain access to proven slot game hits like Stoned Joker, Fugaso Airlines, Trump It Deluxe, Magic Spinners and others.
These additions will undoubtedly bring this content aggregation platform an edge over their competition even though they work with brands such as NetEnt and others. Another reason why Fugaso represents a serious catch for its new partner is the fact that they are GrooveGaming's exclusive provider. All of this combined makes the partnership between these two companies a very lucrative deal for both sides.
Words from the Providers:
Irina Sazonova, director of partnerships at SoftGamings, has commented on the partnership deal, saying: "A new breed of online casino player is keeping the pressure on operators to offer the best gaming experience possible which is why we have zeroed-in on GrooveGaming's exclusive content provider – Fugaso which will position well within our partner casinos and help satisfy player demand. This tie-up with GrooveGaming&Fugaso definitely helps expand our global distribution."
Yahale Meltzer, COO at GrooveGaming, has also offered a comment regarding their new partners: "With SoftGamings we continue to strengthen our reach and develop the critical mass we are seeking. We are thrilled to be part of the pantheon of partners who work closely with SoftGamings and it's nice to rub shoulders with our peers as a provider of choice."
About Fugaso
Future Gaming Solutions is one of the leading software providers in the iGaming industry, offering high-end content to operators from around the world. The company is specialized in delivering advanced gaming solutions, technologies and support to clients looking to build their online casino portfolios.
With a team of highly dedicated professionals, it is always looking for a challenge. Decades of cumulative experience allow this team to successfully negotiate obstacles, create new technologies and advance the iGaming field in numerous ways. As such, this company has become one of the most trusted software providers on the market.
With that said, it is a strong proponent of safe and responsible gaming environments that ensure positive user interaction.
Source: Miller, George. "Fugaso and SoftGamings partner up" https://europeangaming.eu/portal/press-releases/2019/09/18/54504/fugaso-and-softgamings-partner-up/. European gGaming. September 18, 2019.
Author: Dusan Trifunovic