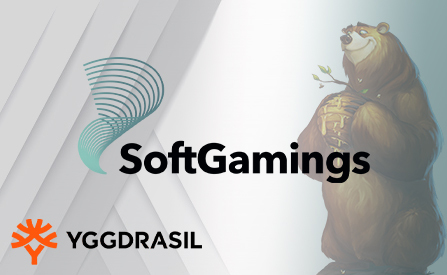 Yggdrasil Gaming is continuing to expand its roster of partners by adding SoftGamings to the list of partners.
The two companies will be working closely together…
…moving forward, which will allow SoftGamings to use a wide range of proprietary tools that its new partner has developed over time.
Becoming a Part of the Family:
The Swedish giant that is always at the cutting edge of the industry and runs a variety of partnership programs that…
…are attracting both up-and-coming as well as already fully established software providers. Its latest partner belongs to the latter category and is currently one of the leading turn-key solution providers that are working with a wide range of operators around the world. By becoming a Yggdrasil affiliate, this company will gain access to proprietary technologies such as the GATI suite, YG Platform, end-to-end development processes for slots, and much more.
On top of the tech, this company will also be able to reach out to other partners within the network and gain from the B2B opportunities this entails.
Björn Krantz, Head of Publishing for Yggdrasil, said: "We are very pleased to announce our latest YG Franchise partner, SoftGamings, who has a long and successful history as an exceptional solutions supplier. Our Franchise business model presents our partners with the ability to access any of our innovative and award-winning technologies, products and services, and take full control of their iGaming business strategy in the most effective and secure way. By offering a completely unique way for SoftGamings to effectively scale its business operations, and accelerate its business growth ambitions, we are very excited to fully utilize our operational and technology agility to support SoftGamings' market initiatives and ambitions."
Irina Sazonova, Director of Partnerships of SoftGamings, said: "Partnering with Yggdrasil as a Franchisee will enable us to accelerate and enhance our business strategy globally. We are delighted to join this growing network aimed at revolutionizing the industry and we look forward to benefiting from all the resources afforded to us as a YG Franchisee. We know that our network of partners is very excited about the opportunities created by us licensing the Franchise solution."
About Yggdrasil:
As one of the leading software providers in the Nordic region of Europe, Yggdrasil has grown to become an authority in the industry as a whole. The company works with a variety of tier one online casinos and as well as peer-level software providers from all over the world. The team behind the brand is full of professionals who know exactly what the markets need and how to deliver it. Fans of its content recognize this company's ability to go above and beyond when it comes to making outstanding games.
Source: "Yggdrasil strikes new Franchise deal with leading igaming provider SoftGamings". Yggdrasil Gaming. July 22, 2020.
Author: Dusan Trifunovic