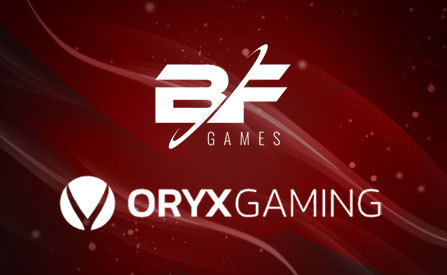 BF Games has announced that they have signed a content deal with ORYX Hub. The new deal opens up their entire portfolio to this highly popular content aggregation platform…
…thus increasing the outreach and exposure of their games.
Introducing New Consumers to the Fold:
BF's decision to sign with ORYX will give this software provider a chance to place their games in various markets where they may not have had a presence. ORYX Gaming's ORYX Hub content aggregation platform has…
…been successfully growing in both exposure and popularity. It is a company that is currently certified in the United Kingdom, Spain, Serbia, Sweden, Romania and a number of other markets.
Their Hub is one of the fastest-growing platforms of its kind in the industry. With over 8000 games in total, it has been a reliable source of high-end content for a while now. Such a strong portfolio has allowed this company to put together a sizable network of partners. This list also includes some of the top tier operators from the markets where ORYX has a presence.
Patrons of some of these operators will soon have the chance to try out Bonnie & Clyde, Aztec Adventure, Taste of China and a number of other slot games that have made BF popular.
A Word from the Brands:
Claudia Melcaru, Head of Business Development at BF Games, commented on the new deal saying: "This partnership is a strategic step for both parties given ORYX's strong market presence in central Europe, where our games have a proven record of high performance. ORYX's ability to provide quick and easy access to content will boost our exposure with leading operators and we look forward to working together to deliver our best performing games to a wider audience."
Matevz Mazij, Managing Director of ORYX, also added a comment regarding the partnership: "BF Games' catalog will make a valuable addition to our offering and we're thrilled to provide our network with seamless access to their titles via ORYX Hub. BF Games' titles have proven success in appealing to a diverse audience and will serve as a strategic advantage as we look to further develop our market presence in Europe and expand our footprint in emerging regulated markets."
BF content will go live across the Hub platform soon, meaning that online casino operators working with this brand will soon be able to incorporate the new content.
About:
BF Games is a software design studio that is mainly focused on delivering high-end slot game titles to the market. This company has appeared fairly recently compared to some of the larger studios out there. However, they have…
…proven their worth numerous times by releasing highly engaging and immersive slots that have accumulated a large number of fans. This company's rise in popularity can also be partially explained by its knack for innovation and the ability to come up with unique features.
Source: "BF Games live on ORYX Hub platform" https://www.igamingbusiness.com/bf-games-live-oryx-hub-platform. iGaming Business.October 1, 2019.
Author: Dusan Trifunovic