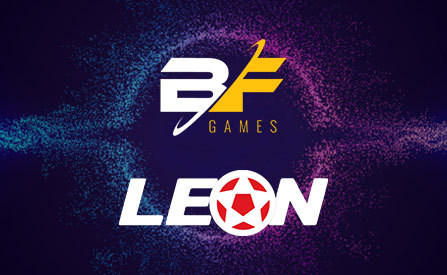 BF Games will soon be offering its entire portfolio of games on a new address. Namely, this company has signed a new content deal with LeonBets Casino.
Adding such a strong player to their list of partnered distributors is set to improve this company's reach in key markets.
Expanding Reach Through Proven Operators:
BF has added one more name to its roster of distributors. Curacao licensed LeonBets Casino will soon be offering the complete portfolio of content from the provider, including all of its top-performing slots. Patrons of the online venue will get to enjoy the absolute classics such as Bonnie & Clyde, Ramses Rising as well as the Crystal Mania.
Adding such a diverse selection of quality games to its offer is bound to boost the site's status in the industry. On the other hand, being one of the larger operators out there means that this United Kingdom-based provider will gain plenty of exposure. Furthermore, this deal will open the door to a number of new markets as well as those where they already have an established presence.
Proven Success:
Being a fairly young provider means that this company is looking for a means to expand their reach. Despite its young age, it has proven its worth with a rich track record of high-quality slot game titles. That type of attention to quality and dedication, the team behind this brand has had no troubles grabbing the attention of several top tier operators. Adding the casino means that another such big-name operator is joining the fold.
Claudia Melcaru, Head of Business Development at BF, has offered a comment regarding the new deal: "We are very excited to announce this deal with such a prestigious operator as LeonBets, which will give us access to a wide-ranging player base. With a strong brand presence in the industry, LeonBets makes a perfect match for us as we continue to grow our distribution network. We are looking forward to finalizing the integration and going live with its online platforms."
Content will go live across the online casino as soon as the two companies hash out the technical details of the deal.
About the Developer:
BF Games was founded in 2013 as a company whose main goal was to develop new payment and support system for the iGaming industry. It didn't take long before it grew into the full-fledged content provider it is today. Registered in London, it has become a trusted name in the industry when it comes to creating and producing unique games.
The team behind this brand has made a name for itself by managing to greatly improve player acquisition as well as retention. With more and more operators joining its distribution network, it is fair to say that the brand will slowly rise up to challenge some of their most direct competition in the near future. This deal with LeonBets is just the latest piece of proof to support that claim.
Source: "BF Games pens partnership deal with LeonBets Casino" https://calvinayre.com/2019/10/29/press-releases/bf-games-pens-partnership-deal-with-leonbets-casino/. Calvin Ayre. October 29, 2019.
Author: Dusan Trifunovic